Who needs low cost, on-demand, cm precison data collection?
Who needs low cost, on-demand, cm precision data collection? "A cm accurate GNSS solution at the right price point." Christopher Cooke of 3LM on Trimble Catalyst We've just launched 'A Grand Deal' and it's our offer of the summer! Mobile, on-demand data collection with centimetre-precision, our…
Who needs low cost, on-demand, cm precision data collection?
"A cm accurate GNSS solution at the right price point." Christopher Cooke of 3LM on Trimble Catalyst
We've just launched 'A Grand Deal' and it's our offer of the summer! Mobile, on-demand data collection with centimetre-precision, our KOREC Capture data collection app and the KOREC Portal for review, analysis and reporting of data, all for under £1,000.
Key to this very grand offer and the exceptionally low-priced cm precision is Trimble Catalyst, our on-demand subscription based GNSS. Easy to set up and use, with a range of accuracy subscriptions available, the only hardware you need to purchase is the low-priced antenna.
But who can benefit from this offer? We took a look through our list of Catalyst users and the range is vast! Here are just some of the examples of KOREC customers who have selected Catalyst for their projects (full stories below):
V.T.O.L Media – establishing ground control points for aerial surveys
Operating out of Shropshire, V.T.O.L Media is a company that specialises in aerial photography, video and survey and in particular, construction monitoring. The company is owned by CAA Approved drone pilot, Neil Pepper, who has a mixed drone fleet and takes great pride in using only the latest in high-tech equipment.
The company has recently experienced an increase in demand for survey work with many clients requesting high accuracy aerial surveys. Aware that the use of ground control points would greatly improve the accuracy of any aerial surveys he undertook, and with many of the projects he was working on having little or no established GCP's, he decided that the ability to establish his own would ensure total confidence in the accuracy of any aerial surveys he carried out.
Having researched various options for the precise positioning of chequer boards in wide open spaces or drains, road markings etc in urban areas, he found a perfect match for his requirements in Trimble Catalyst. Light, easy to use, compatible with his Android smartphone and by far the most cost-effective cm accurate system he could find, Neil says that he can place his GCP's in under and hour and the cost of his Catalyst cm on-demand subscription is just £10!

3LM – a holistic approach to agriculture and the land
Yorkshire based 3LM is a member of the Savory Network, a global group that advocates, trains and supports land managers around the world to regenerate land through Holistic Management. 3LM specialises in the provision of educational and advisory services to agriculture and works with farmers who know that something needs to change, but are unsure what. Assisting this approach to change is the precise measurement and data capture of the four eco system processes fundamental to all life – water, minerals, solar energy and community dynamics.
3LM Company Director, Christopher Cooke has a strong background in both GNSS and water management and therefore turned to KOREC in his search for a cm accurate GNSS solution at the right price point. Finding the suggested Trimble Catalyst solution exceptionally easy to use and subscribe to, the company now has two systems comprising Trimble Catalyst, TDC600 logger and KOREC Capture field data capture software.
"The Trimble Catalyst system couldn't be easier to use. It's reliable, easy to subscribe to, and most importantly I know that our data is secure with zero chance of it being lost due to storage in both the cloud and on the TDC600. Having cm accuracy on demand allows us to accurately position any areas that we sample from and then navigate back to them at a later date for progress reporting. Additionally, the data management side of the system, developed by KOREC, really is world class.
"We have now achieved our aim of being paper free in the field and have particularly enjoyed how this technology has captured the imagination of the younger generation of farmers and land managers that we work with."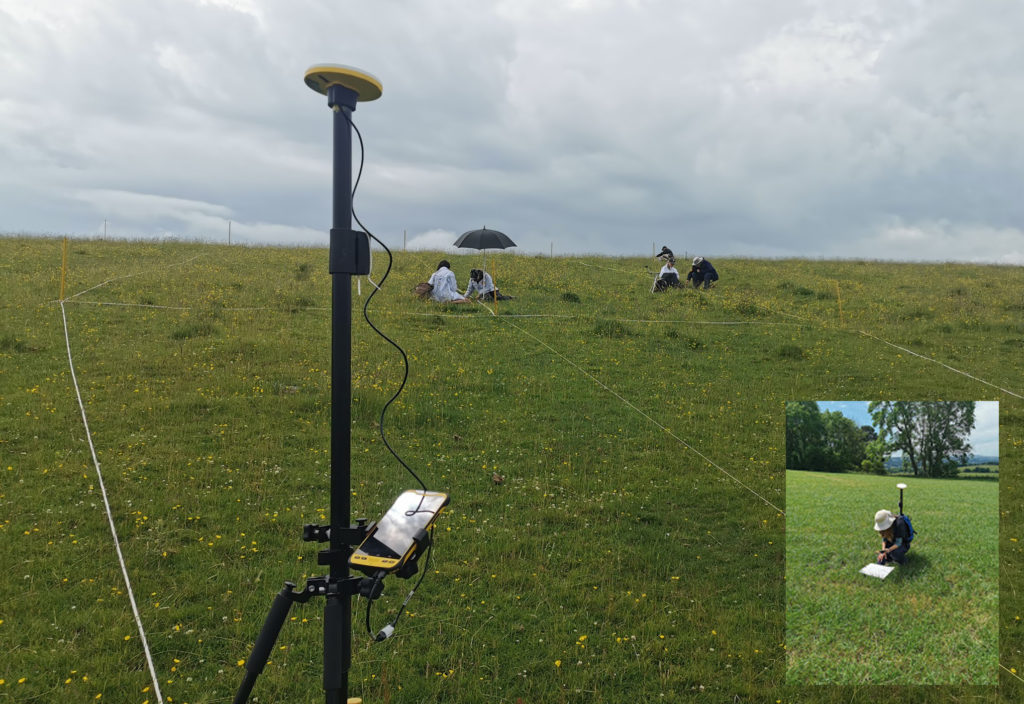 TP Knotweed – rapid response identification and removal of knotweed
Aggressive, destructive, relentless, Japanese Knotweed is the most invasive plant in the UK and remains a major problem for the construction industry. One company specialising in its removal is Oxfordshire based TP Knotweed, a company that is prepared to invest in technology in order to increase efficiency, whether that be CRM, van trackers or new apps, or in this case Trimble Catalyst.
When TP Knotweed takes on a project, it's vital that they have very accurate measurements as to the area of an infected site if they are to prepare an exact quote for their clients, along with a map of the project including the position of any boundaries, stockpiles trees etc.
For smaller sites, their solution was a Trimble Catalyst subscription for cm accuracy along with KOREC Capture software which could run on one of their existing Android smartphones or tablets.
TP Knotweed found the Catalyst system quick to set up and easy to use making it ideal for fast turnarounds on these sites. The company also reports that the systems are in use every day and that the quality and quantity of information they are collecting is proving vital for another of the company's aims, to build a UK wide shareable database of knotweed contamination.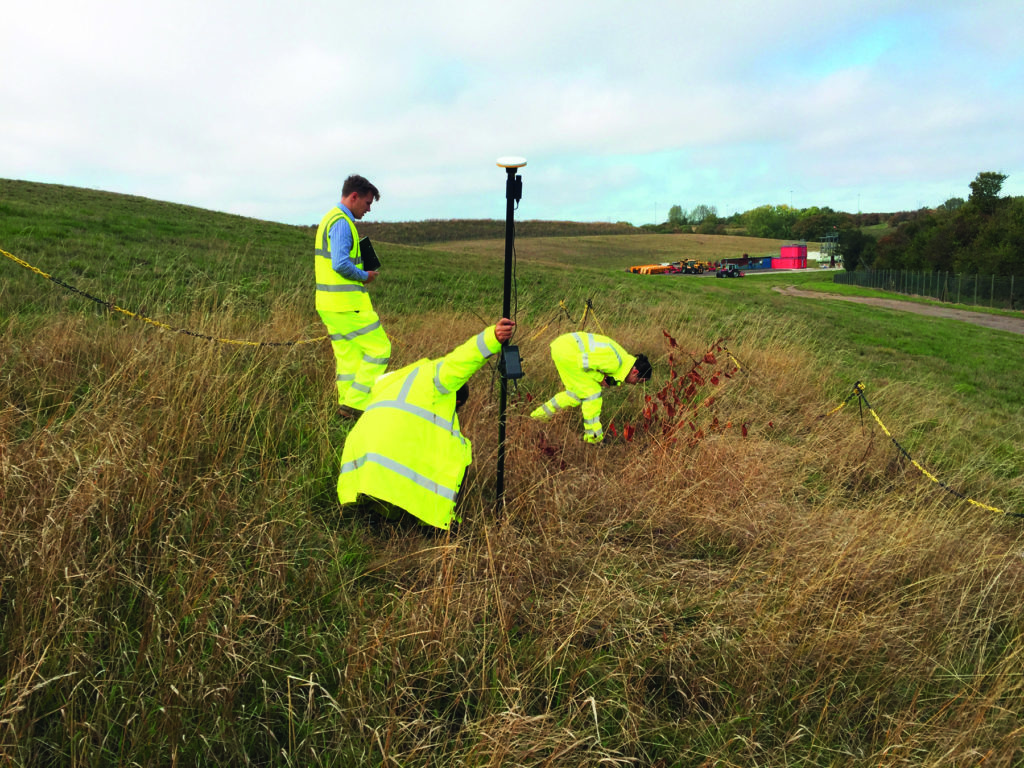 A14 Integrated Delivery Team – fast one-off positions and augmented reality in the field
The £1.5bn A14 Cambridge to Huntingdon improvement scheme was one of Highways England's largest recent projects and the 34km site provided the contractors involved with a perfect testing ground on which to share new ideas and balance tried and tested technologies alongside new ways of working.
For Skanska's Mark Lawton, Chief Engineering Surveyor, A14 Integrated Deliver Team, Trimble Catalyst provided two useful areas of investigation for potential use on future projects:
1. Contractors on the A14 scheme often required accurate positioning in 'one off' situations. For example, those carrying out borehole testing or soil sampling needed accurate positions either to map a new point or navigate back to a previously recorded one. However, it would not be cost-effective to send a fully trained engineer with survey grade GNSS to carry out these tasks. An obvious alternative was Trimble Catalyst, in this case using its on-demand subscription model with KOREC Capture data collection software running on the contractor's smartphone. KOREC Capture could offer the contractors fully customisable lists, drop down boxes, mandatory fields etc which again would bring consistency of data, to the attribute information collected as well as cm positioning.
2. Mark also successfully trialled Trimble SiteVision, a system that fuses cutting-edge augmented reality technology with Trimble Catalyst centimetre-precision GPS. The end result is a system that allows you to take your models, drawings and data off the screen and onto your site. Key application areas included utility records, design information, future information and 3D models. In particular, Mark mentioned that on the A14, following the capture of hundreds of km of cable, they needed to know exactly where that cable was for a Permit to Dig. Having the information available visually through SiteVision was hugely helpful in determining where they could excavate.
Additionally, he says that SiteVision provides an easy to understand visual explanation to third parties, such as householders, as to why they are digging in a certain place.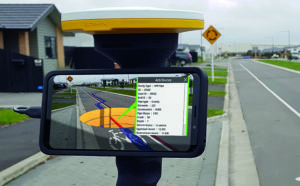 What's Next?
Take a look at the Trimble Catalyst product page
Watch the official Trimble Catalyst video on our YouTube channel
Make sure you follow KOREC Mapping for all the latest news, info and events