For information on how KOREC have responded to the COVID-19 Pandemic, and access to our Risk Assessments, please
click here.
GNSS Systems
Backed by a legacy of GNSS technology leadership and surveying expertise, Trimble provides surveyors with reliable, innovative GNSS survey solutions that meet their distinct requirements.
For more than 30 years, Trimble has set the standard for positioning technologies, and intends to continue that tradition well into the future.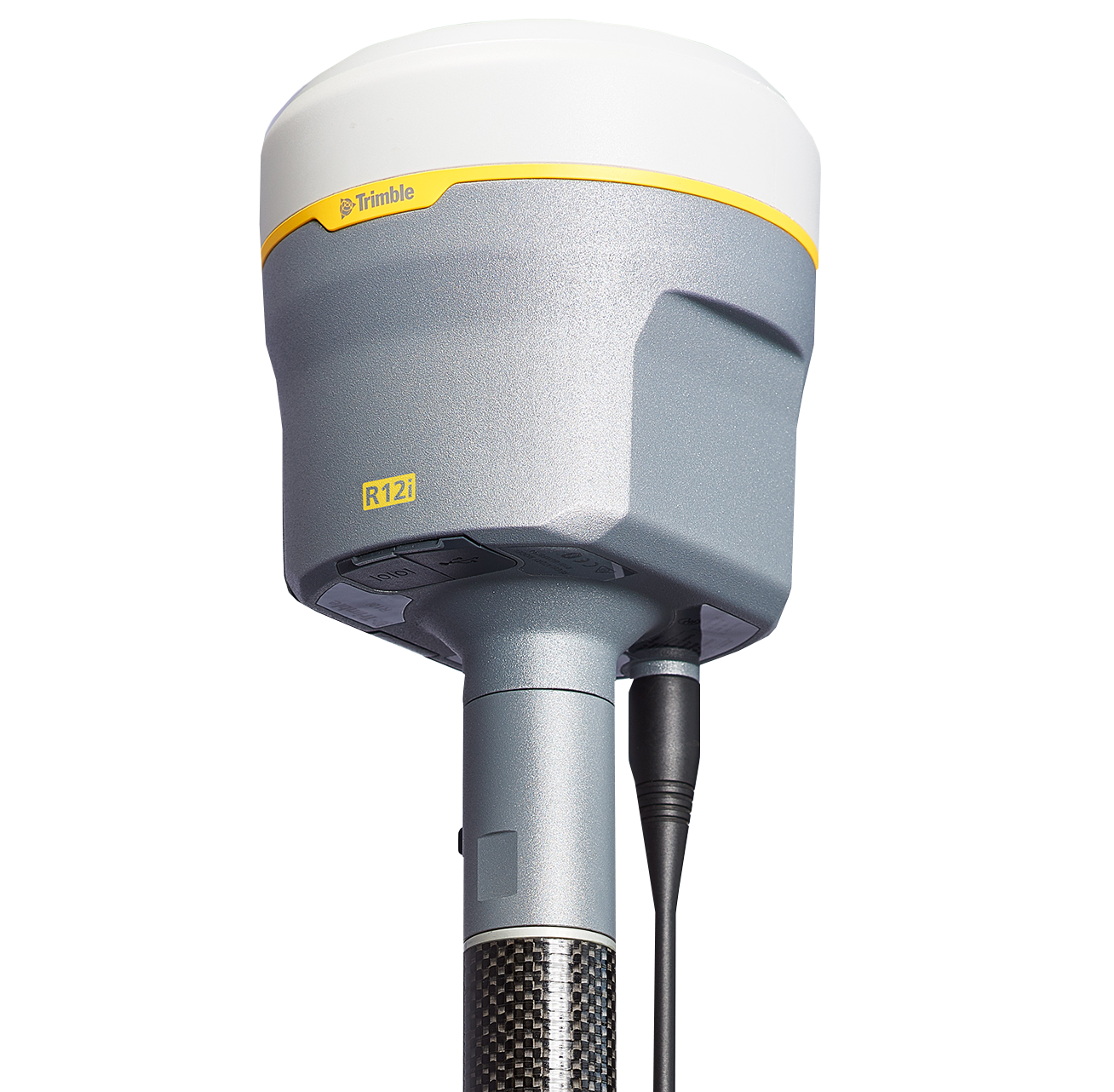 Integrated GNSS Systems
Modular GNSS Systems
Software Based Receivers
Software
Antennas
FAQs
GNSS accuracy is dependent on the type of receiver and technology involved. For example, whilst a GPS Smartphone can offer an accuracy of around 4-5m in open skies, an advanced commercial GNSS system such as Trimble's R12i can offer an accuracy of up to 3mm. GNSS accuracy can be affected by external conditions such as high buildings, heavy tree canopy or an insufficient number of satellites. The R12i features technology that makes it the most reliable choice for operating in inhospitable GNSS conditions.
If an accurate position is required, then there is an application for GNSS technology, consequently it is adopted by many people within many different industries and market sectors. For example, KOREC offers Mapping GNSS products that are used for the positioning of everything from lampposts and street furniture to gullies, footpaths, trees and fibre optic cables, anything where decimetre accuracy is more than sufficient which includes navigating back to previously recorded points. It has particularly high take-up for environmental, utilities and local government applications.
The KOREC range of survey GNSS with their mm accuracy are more suitable for infrastructure and civil engineering applications where accuracy is vital, for example the rail industry, construction, highways, forensics and collision site investigation and topographical surveys.
GNSS stands for Global Navigation Satellite System. This is an umbrella term that covers all global satellite positioning systems including GPS (Global Positioning System) a constellation of satellites developed by the United States Department of Defence originally for military use but now available for commercial and consumer use.
The main difference between the two is that GNSS systems provide increased accuracy and reliability because they can use satellites from other networks beyond the GPS system, for example GLONASS (Russian), EGNOS (European), Galileo (European) and Beidou (Chinese).
GNSS-compatible equipment can use navigational satellites from other networks beyond the GPS system, and more satellites means increased receiver accuracy and reliability. All GNSS receivers are compatible with GPS, but GPS receivers are not necessarily compatible with GNSS. The most advanced instrument in KOREC's range is the Trimble R12i whilst the Trimble R1 is more basic, pocket sized receiver.
As the UK and Ireland's largest Trimble distributor, KOREC supplies a wide range of surveying, mapping and geospatial solutions to multiple industries. In particular Trimble is renowned for its innovative GNSS systems establishing its reputation over 30 years.
These systems are innovative and ground breaking with the latest releases including the Trimble R12, which introduced geospatial professionals to Trimble ProPoint™ GNSS Technology which greatly improves performance in challenging GNSS conditions. This was followed by the Trimble R12i which offers Trimble TIP Tilt Compensation Technology – Inertial Measurement Unit (IMU) based tilt compensation for accurate setting out and measuring points without precisely levelling the pole.
Other Trimble GNSS technologies include Trimble CenterPoint RTX® Correction Service providing RTK level precision worldwide without the need for a base station or VRS network and Trimble xFill® Technology designed to keep you working in radio and cellular black spots with continuous RTK coverage.
Additionally, Trimble GNSS receivers include the Trimble R10, designed to collect more accurate data faster and easier and the Trimble R8s, a configurable receiver that is scalable for future needs, the Trimble R2 which is also suitable for GIS mapping data capture applications and the pocket sized Trimble R1 designed for mobility.
As well as bringing excellent accuracy and reliable performance, Trimble GNSS can be used with a choice of data collectors. These range from the high-end powerful Windows  Trimble TSC7 which combines a large screen with rugged performance running Trimble Access field software, to the Android Trimble TDC600 handheld, a sleek, all-in-one rugged smartphone with a built-in professional GNSS receiver that runs the newly launched Trimble Access 2020 software.
The GNSS systems are also compatible with Trimble VRS Now, Trimble's RTK correction service.
Talk
Korec
Case Studies
A combination of two Trimble GPS solutions, the R10 Receiver and Trimble Catalyst (a unique subscription-based GPS solution)

Tackling knotweed with high accuracy GNSS Read More >

Trimble VRS Now has been used to replace a base station bringing even greater coverage and improved efficiency to the Hydrographic Survey Team at ABP Southampton.

Supporting the safe navigation of vessels within the Port of Southampton Read More >
Case Studies
Latest News
We're celebrating the eventual arrival of the Tokyo Olympics with our own mini competition, as well as highlighting our 'dream team' product line up. For the duration of the Games, we're asking customers and colleagues alike to submit their best snaps on the theme of the Olympic motto – Faster, Higher, Stronger. We welcome photos […]

TeamKG celebrate the arrival of the Olympics Read More >

Who needs low cost, on-demand, cm precision data collection? "A cm accurate GNSS solution at the right price point." Christopher Cooke of 3LM on Trimble Catalyst We've just launched 'A Grand Deal' and it's our offer of the summer!  Mobile, on-demand data collection with centimetre-precision, our KOREC Capture data collection app and the KOREC Portal […]

Who needs low cost, on-demand, cm precison data collection? Read More >
Latest News
Webinars
Date: Wednesday 24 February Time: 3pm Join us on Wednesday 24th February to learn about our mobile mapping office software workflow and get updated on the latest enhancements, new features and functionalities. Our team will discuss data processing in Trimble Business Center version 5.40 and how to efficiently extract features and publish data using the […]

Mobile Mapping Essentials: Software Update Read More >

Date: Wednesday 25th August Time: 3pm GMT Join the TBC team as we process data from the new Trimble MX50 Mobile Mapping System and use a variety of tools that can be applied in asset management workflows. In this session, attendees will learn trajectory processing, run-to-run registration, classification and extraction of point clouds and making […]

TBC Power Hour: An Introduction to the MX50 in TBC: Asset Management workflows Read More >
View Webinars