The next generation receiver for the Trimble Catalyst GNSS positioning service has landed!
KOREC's Richard Gauchwin puts the new Catalyst DA2 through its paces looking at why it delivers even more than the DA1 for anyone wanting cost-effective, precise data capture.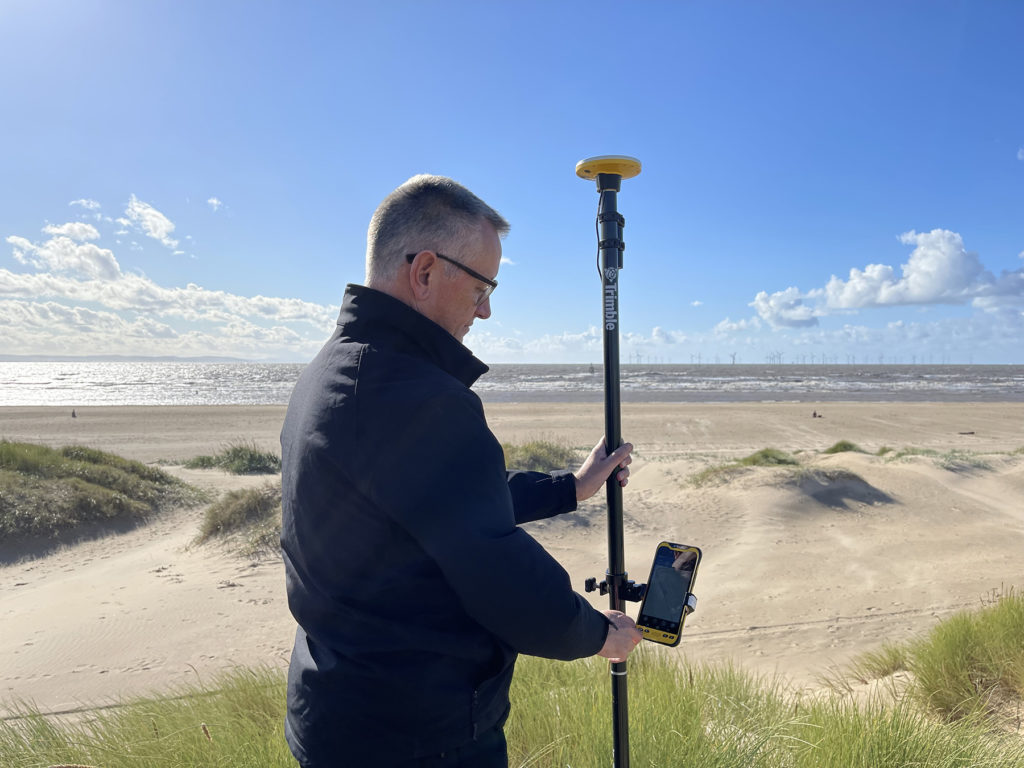 We'd like to introduce you to a new acronym – PAAS or Positioning as a Service!
The DA2 is the second-generation receiver and antenna for Trimble's Catalyst service. Simply, Catalyst is a revolutionary, GNSS concept delivering positioning as a service to mobile devices. It turns your Android or IOS device into a precision mapping, navigation and measurement tool that you can use with any location enabled app or service including KOREC Capture and Esri FieldMaps.
Catalyst delivers the most cost-effective method for achieving cm accuracy positioning in the industry.
Subscription based services have grown faster than traditional businesses in many areas of the economy. Trimble is leading the way in PAAS with its Catalyst positioning service.
Of course, here at KOREC we don't just take things at face value so our Mapping Business Area Manager, Richard Gauchwin, has been out and about putting the DA2 through its paces.
We caught up with him to find out what's new and what's impressed. Here's his verdict:
Number one has to be the fact that the DA2 is now a full GNSS receiver which removes dependencies on the mobile device which you may have seen with the DA1.
Whilst the DA1 connected via a cable into an Android phone, it was the app on the phone where all the GNSS processing was carried out. In short, processing times etc were limited by the phone's performance. Not so with the DA2 receiver, it's a whole different story! The biggest plus is that Catalyst is now so much faster to use. For example using the DA1, it might take you minutes to get a position, with the DA2, we're talking seconds!
They may look the same and still weigh in at just 330g, but in terms of performance they couldn't be more different.
2. The DA2 brings you far more flexibility as it now has Bluetooth which allows you to connect wirelessly to your mobile device of choice. And believe me, there is definitely more choice because this now means that the DA2 is compatible with both IOS and Android.
3. The DA2 offers Trimble's ProPoint technology which has previously only been available in top of the range GNSS receivers. ProPoint means better results in harsh GNSS conditions, for example near tree canopy and in built-up areas. Expect a cm position near tree canopy within 40 seconds.
4. New subscription choices mean even better scalability. Subscriptions have been clarified to accommodate the better accuracies achievable. Choose from 60cm, 30cm, 10cm or 1cm. Trimble have also provided more choice in the number of hours you can purchase including some great options available for equipping large workforces. And of course, you still only pay for what you use.
5. The DA2 means that you are no longer reliant on receiving your cm corrections over an internet connection. Thanks to Trimble's RTX technology you can now get your corrections via satellite which is great for areas with limited mobile phone coverage and internet connectivity.
6. The DA2 is future proof and will update wirelessly when required.
Who is Catalyst suitable for?
In a nutshell, we describe Catalyst as being a truly cost-effective option for those who require high accuracy positions as a part of their workflow, for example, positioning Ground Control Points for an aerial mapping project, recording the location of soil samples on a construction project or positioning valve or pipe connections on a drainage job. By having access to a cm accuracy system, with no training costs and no outlay for expensive, specialist hardware, Trimble Catalyst is truly a system that can put cm accuracy into the hands of the many different users and/or across large workforces.
We have a great analogy comparing Catalyst to a buying a printer and printer inks. Simply, the hardware costs in buying a printer are minimal, the service, or in this case the printer ink is where the cost lies. If you are just printing out two or three pages every now and again then this is the equivalent of a Catalyst user who can really gain value from the system. If however, you print off many full reports every day, then you will not achieve good value from Catalyst and it's best to consider a dedicated survey grade GNSS.
If you'd like to see which KOREC customers been using Catalyst then please visit our customer story blog here to read about:
·  V.T.O.L Media – establishing ground control points for aerial surveys
· 3LM – a holistic approach to agriculture and the land
· TP Knotweed – rapid response identification and removal of knotweed
· A14 Integrated Deliver Team – fast one-off positions and augmented reality in the field
A related case study on knotweed mapping with Catalyst is here and asset data collection here.
Visit our webinar section here for the full details on the new Catalyst system.