The Pioneer
The story of a man who overcame football racism to become a true pioneer in not one, but two fields
Our third 'Hidden Figure' of October was a true pioneer in not one but two fields – the football pitch and the fields of war – and has just entered the Hall of Fame at the National Football Museum
Walter Tull seemed to face adversity at every step of his short but eventful life. Walter, along with his brother Edward, was left orphaned at just nine years of age after his mother died of breast cancer and his father of a heart attack. The two young boys were moved from their native Folkstone to a children's home in Bethnal Green.
It was here that Walter's love and talent for the beautiful game first became apparent, and at the age of 20 he was signed for local amateur club Clapton FC – one of the first black players in English football. Reports were Walter never played a losing game, and was called the "catch of the season" by the Football Star.
Fame came calling just a year later when Walter signed for Tottenham as inside forward. During his short time with the club, Walter endured horrific racial abuse at the hands of the opposing fans. Newspaper reports of the time state that, despite being abused with language "lower than Billingsgate [market]", Walter remained, at all times, a true professional;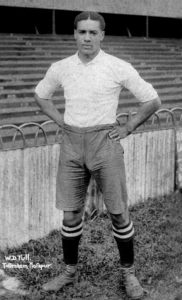 "He is Hotspur's most brainy forward … so clean in mind and method as to be a model for all white men who play football … Tull was the best forward on the field."
Walter's life took a very different turn with the outbreak of the Great war in 1914. He wasted little time in enlisting, joining the 'Footballer's Battalion' (what else?) of the Middlesex Regiment in December 1914. He fought extensively in the war including on the Italian and Western fronts, and at the battle of the Somme. His "gallantry and coolness" helped him climb the ranks, becoming a second lieutenant in 1917 – one of the first mixed-heritage men to become an officer in the British Army, and the first black man to command white troops.
Walter's life was cut tragically short on 25th March 1918 in northern France, during a German offensive. He was just 29 years old. When notifying of his death, his commanding officer recommended Walter for a Military Cross – for his gallantry and brave service.
Despite never receiving the award he clearly deserved, today Walter has been recognised for his contribution to the beautiful game. This week he was posthumously entered into football's Hall of Fame, in a ceremony at the National Football Museum, Manchester.
Former Tottenham defender Ledley King, who was at the ceremony, described Walter as a "true inspiration – to me and for every black footballer who has come through since"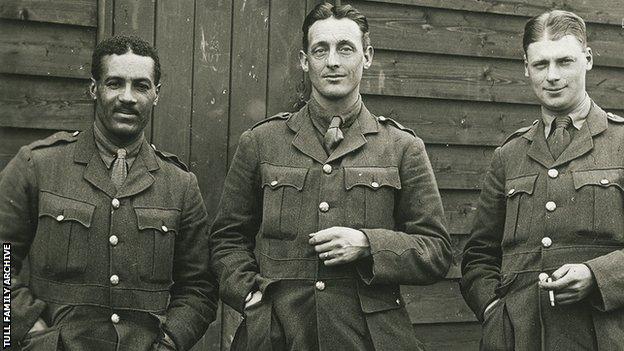 Sources for this blog;
https://www.bbc.co.uk/sport/football/43504448
https://www.bbc.co.uk/sport/football/58992003