For information on how KOREC have responded to the COVID-19 Pandemic, and access to our Risk Assessments, please
click here.
A thwarted instrument theft reminds us that this problem hasn't gone away
9 November 2020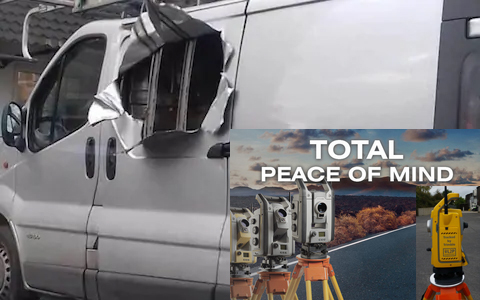 Thank you to SEP Rail Services for the recent LinkedIn post reminding us all why it's important to stay vigilant against the every present risk of instrument theft.
SEP Rail Services includes some of its own useful tips for theft avoidance and on what to do if you do fall victim. Here at KOREC we'd like to add some more suggestions:
TSA urges everyone to remember personal safety comes first! Download the free Briefing Note on Theft Mitigation Measures and accompanying A4 Poster at https://www.tsa-uk.org.uk/downloads/
As well as informing the Police, it's vital to register the theft with TSA by visiting this page which also explains why this information is so valuable
Avoid theft by making the most of manufacturer's technology. KOREC is currently offer a free 3 year Total Care Package on all new Trimble S-Series Total Stations. This package includes L2P (Locate to Protect) tracking which has enabled the speedy recovery of many stolen instruments.
Talk
Korec
Case Studies
A combination of two Trimble GPS solutions, the R10 Receiver and Trimble Catalyst (a unique subscription-based GPS solution)

Tackling knotweed with high accuracy GNSS Read More >

Trimble VRS Now has been used to replace a base station bringing even greater coverage and improved efficiency to the Hydrographic Survey Team at ABP Southampton.

Supporting the safe navigation of vessels within the Port of Southampton Read More >
Case Studies
Latest News
"Trimble VRS Now can be summed up in a single word – reliability." Neil Jefferies, Greenhatch Group Director There are many reasons why KOREC customers rate Trimble's VRS Now Service but in all they years since it's release, the top four haven't changed at all – accuracy, flexibility, reliability and availability – all […]

Trimble VRS Now – no base station required! Read More >

Did you know that the Trimble X7 3D Laser Scanner has an integrated calibration feature that offers full auto-calibration of range and angular systems in 25 seconds with no user interaction or targets? This Trimble technology is a smart feature that monitors environmental temperature, ambient light, vibration, instrument temperature and vertical speed to take the […]

The Trimble X7 auto-calibrates – five reasons why this matters Read More >
Latest News
Webinars
No upcoming webinars available, check back again soon!
View Webinars