Another lockdown – handling the unexpected
With another lockdown upon us, political uncertainty at home and abroad and winter fast approaching there are many aspects of the future over which we have little or no control…and we've certainly not been short of media advice on how to deal with the unexpected gracefully – keep calm,…

With another lockdown upon us, political uncertainty at home and abroad and winter fast approaching there are many aspects of the future over which we have little or no control…and we've certainly not been short of media advice on how to deal with the unexpected gracefully – keep calm, be patient, develop acceptance, adapt to the new conditions.
These are wise words indeed, but here at KOREC we'd like to offer something a little more concrete.
When you buy any Trimble S-Series Total Station (S5, S7 or S9) before the end of November, we will give you a 3 Year KOREC Total Care Package (KTCP) FREE. In short, peace of mind for 3 years with your Trimble S-Series instrument.
Our free KTCP package includes 6 key benefits:
Annual Calibration on unit for 3 years.
For those that collect the data and those that use the data, it's vital that 100% confidence exists in the quality of all information collected. Regular calibration checks not only ensure that instrument error – a possible source of inaccuracy – is avoided but can also prolong the life of your instrument by flagging up any maintenance issues. The Survey Association has an excellent Briefing Note on calibration that you can read here.
FREE Non-Damage related repairs.
Our KOREC service technicians are fully trained to the highest standards, offering you complete confidence and peace of mind that your kit is in the best hands.
We have two service & support centres – located in Huntingdon (UK) and Dublin (Ireland). Both of these sites are Trimble certified, holding Service Level 3 – the highest level of certification available for a Trimble dealer.
L2P (Locate to Protect) included
There's nothing we like more than hearing about technology delivering exactly what it's designed for, and that's why we've heard many times over that Trimble's L2P tracking and AllTrak software has provided KOREC customers with the means to track and recover stolen survey instruments. A recovered instrument reduces insurance claims and site down time as well as enabling our industry to track and prosecute thieves. Read just one example of how L2P has done just that here.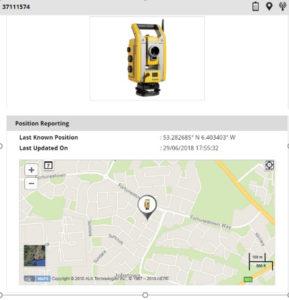 Software and Firmware updates for Trimble Access and Robotic for 3 years
Updates contain important changes that enable your on-board and office software to run with stability and maximum efficiency. The KOREC Total Care Package ensures that you will have free access to all related software and firmware updates for 3 years along with clear instructions on where to find them and how to install them.
5% off a hire replacement unit
If site damage does occur to your S-Series Total Station, then we will offer a 5% discount on a hire replacement to keep you productive in the field whilst your own instrument is being turned around in our workshop.
Dedicated specialist technical phone support
A fast solution to your problems when you are under pressure or working within tight time scales on site is something all our KOREC customers tell us they value highly. Trimble and KOREC trained, our technical support team has a high level of specialised knowledge on S-Series instruments and software enabling them to solve problems quickly, often on a single call.
Find out more about why the Trimble S-Series is rated so highly, visit our Total Station page.