Why 7 is a lucky number
There are seven days in a week, seven colours of the rainbow, seven seas, seven continents and now Survey Solutions has seven Trimble X7's! Following Survey Solutions' recent acquisition of three further survey companies, Survey Systems, Locate Surveys and Kempston Surveys,  it is now the UK's largest engineering survey company…
There are seven days in a week, seven colours of the rainbow, seven seas, seven continents and now Survey Solutions has seven Trimble X7's!
Following Survey Solutions' recent acquisition of three further survey companies, Survey Systems, Locate Surveys and Kempston Surveys,  it is now the UK's largest engineering survey company and one that prides itself on offering 'more than a survey'.  Survey Solutions sees investment in the latest technology as an integral part of that process and has an extensive survey fleet that reflects this forward thinking approach. Most recently this has included expanding and updating its range of 3D Laser Scanners.
With nine offices – from Scotland to Somerset – company CEO James Cooper was particularly keen to ensure that his regional teams had access to a 3D Laser Scanner that would meet their demands for high quality data, ease of use and excellent productivity in the field.  In upgrading the fleet's older laser scanners, he was also keen to replace them with an instrument that all the surveyors and engineers would engage with. Their choice was the Trimble X7.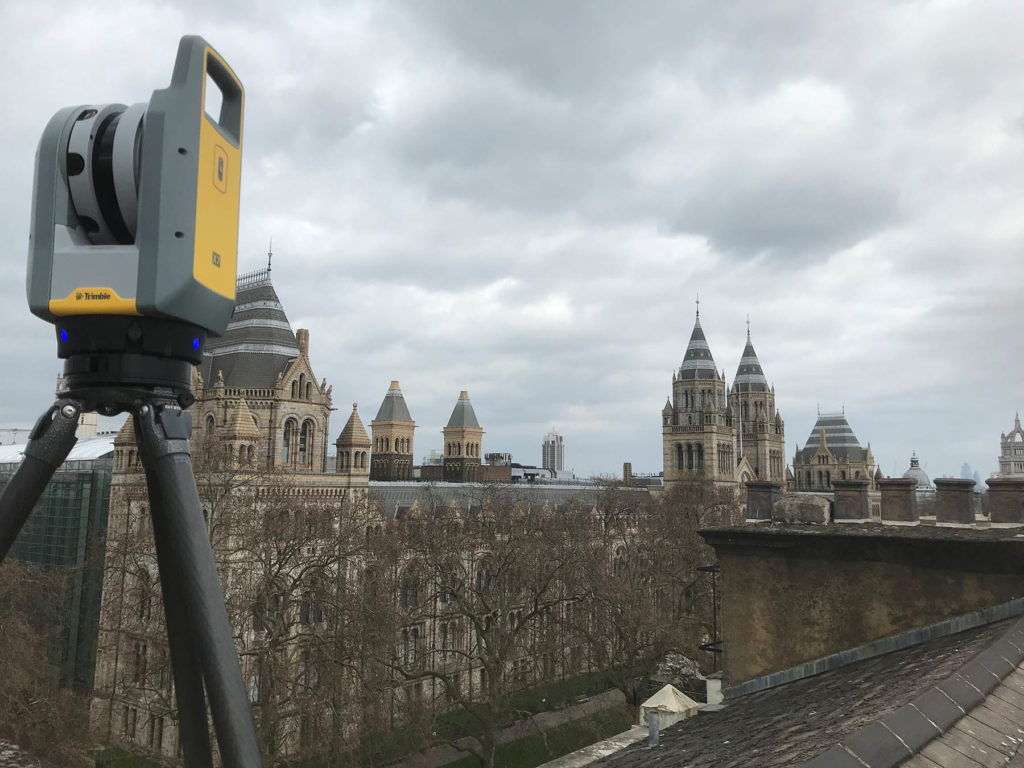 Seven scanners later, we caught up with Survey Solutions South East Director, Dave Bredin, who kindly shared his views on why the X7 has been such a popular addition to their survey fleet.
Top of Dave's list was onsite registration. With seven X7's in constant use, the increased efficiency on site and time saved in the office is considerable and a vital part in helping their clients meet important project deadlines. Dave estimates that on every job, office time is reduced by at least one third with the registered point cloud going straight in to drawing up.
The onsite registration also ensures that the Survey Solutions surveyors have total confidence in the data they have captured with the ability to check there and then that there are no gaps or missed areas. This reduces rework as well as time spent travelling back to a site if additional information is required. Tellingly, Dave says that it would be counter-productive to highlight a specific example of this function earning its keep because '… it's every time on every job'!
Second on the list as a requirement for any laser scanner to be used nationwide was ease of use. With a large number of surveyors having access to the instruments it was vital that they could pick up the workflow quickly, with minimal training and have total confidence in their ability to collect high quality data from the off.
Dave reports that aside from the sensible pricing of the X7, there are many features that make it a perfect fit for the Survey Solutions' fleet. These include it being easily carried in a backpack (many jobs in his SE area are undertaken in central London), the auto-calibration and self-levelling functions that ensure greater productivity on site and the Trimble RealWorks processing and analysis software that handles and combines data from different sensors. However, the real proof of an instrument's contribution to a fleet is how it's perceived by those who use it every day. Dave concludes, "The mark of a good piece of kit is the feedback from the surveyors who actually use it and every one of our surveyors loves it! Clearly the advancements in the Trimble X7 represent the next step in laser scanning technology and the X7's easy to use and productive workflow is highly beneficial to both ourselves and our clients. It certainly ticks all the boxes for Survey Solutions."