For information on how KOREC have responded to the COVID-19 Pandemic, and access to our Risk Assessments, please
click here.
Object-based Landslide Assessment in Site-Specific Scale
23 February 2021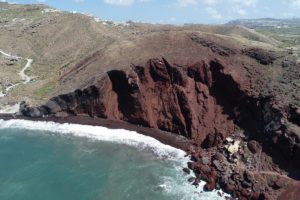 Date: Tuesday 23 February
Time: 3pm GMT
The increased development of computer vision technology combined with the increased availability of innovative platforms with ultra-high-resolution sensors mounted, has generated new opportunities and fields for landslide identification and characterization. During the last decade, the so-called Unmanned Aerial Vehicles (UAVs) have been evaluated for diverse applications such as 3D terrain analysis, slope stability, mass movement hazard and risk management. Their advantages of detailed data acquisition at a low operational cost and efficient performance pose them as leading platforms for site-specific 3D modelling. In this research, methodology has been developed based on Object-Based Image Analysis (OBIA) and fusion of multivariate data derived from UAV photogrammetry processing in order to take full advantage of the ultra-high-resolution datasets. Analysis demonstrates the potential for accurate and reliable characterization of individual landslide zones within this natural process based on close range photogrammetry for landslide conceptualization.
Talk
Korec
Case Studies
A combination of two Trimble GPS solutions, the R10 Receiver and Trimble Catalyst (a unique subscription-based GPS solution)

Tackling knotweed with high accuracy GNSS Read More >

Trimble VRS Now has been used to replace a base station bringing even greater coverage and improved efficiency to the Hydrographic Survey Team at ABP Southampton.

Supporting the safe navigation of vessels within the Port of Southampton Read More >
Case Studies
Latest News
How do we maintain our motivation in the depths of winter? How do we remain positive and engaged as a team when we can't even meet face to face with our colleagues? That was the challenge facing the KOREC team at the beginning of 2021. A highly social group who aren't averse to a challenge, […]

A Very Healthy Competition Read More >

We're delighted to announce the launch of KOREC GEOSCHOOL, our on-line learning platform that offers a range of paid for and free of charge high quality training courses. These courses have all been designed to allow you to choose, where, when and at what pace you'd like to complete your training as well as providing […]

Launching KOREC GEOSCHOOL…with a great offer! Read More >
Latest News
Webinars
Date: Tuesday 9th March Time: 9am Join Trimble's Support Team on Tuesday, March 9th, for a presentation on solutions and tools to address frequently asked questions. You will learn about the usage of GAMS and DMI, improvements to the registration process in TBC v5.40, the latest updates in POSPac 8.6, tips, tricks, and much more. […]

Trimble Mobile Mapping: FAQs and Solutions to Increase Your Productivity Read More >

Date: Tuesday 16th March Time: 3pm Join Trimble's survey controller product marketing team to learn everything about the new TSC5 controller. The TSC5  is the dependable, modern, sixth‑generation survey controller that enables you and your team to get the job done efficiently and accurately, every day, all day.

Introducing the Trimble TSC5 Controller Read More >
View Webinars