Surrey Police and Sussex Police invest in Trimble X7 Laser Scanning technology
Our team of experts including Cesar Almeida, Melvin Penwill and Rob Judge were on hand to deliver the nine units to the forces
We're delighted to announce that the hard work of KOREC Regional Director Barry Monk and our KOREC team of scanning/forensic specialists has resulted in a significant investment in Trimble X7 3D Laser Scanners by Surrey and Sussex Police.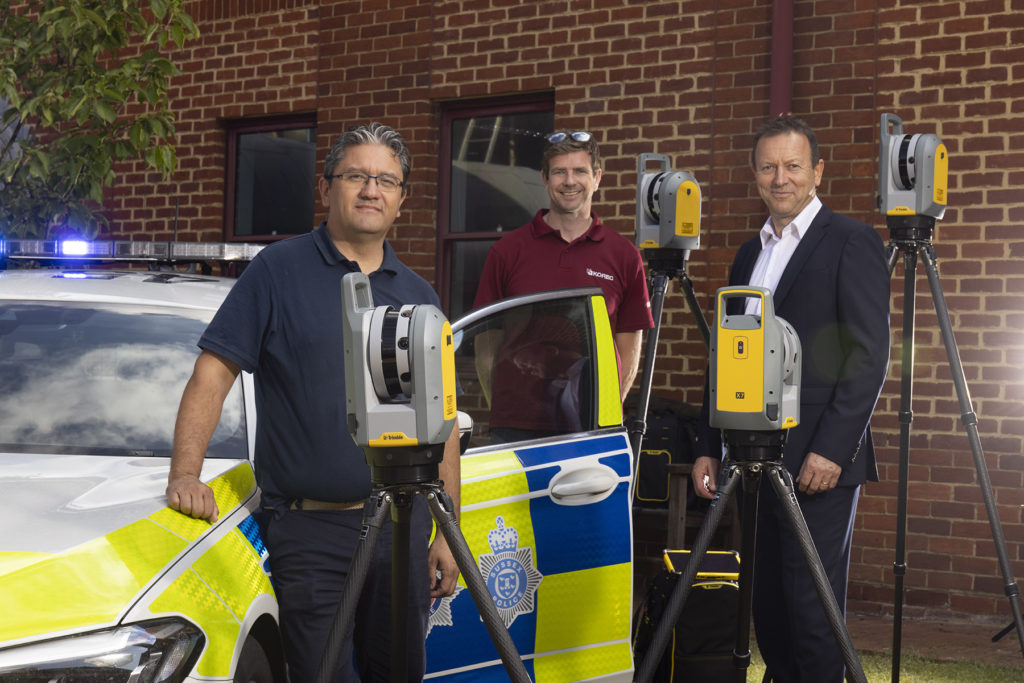 The nine new X7's have already been delivered and we were pleased to be there on the day to ensure that the handover went smoothly.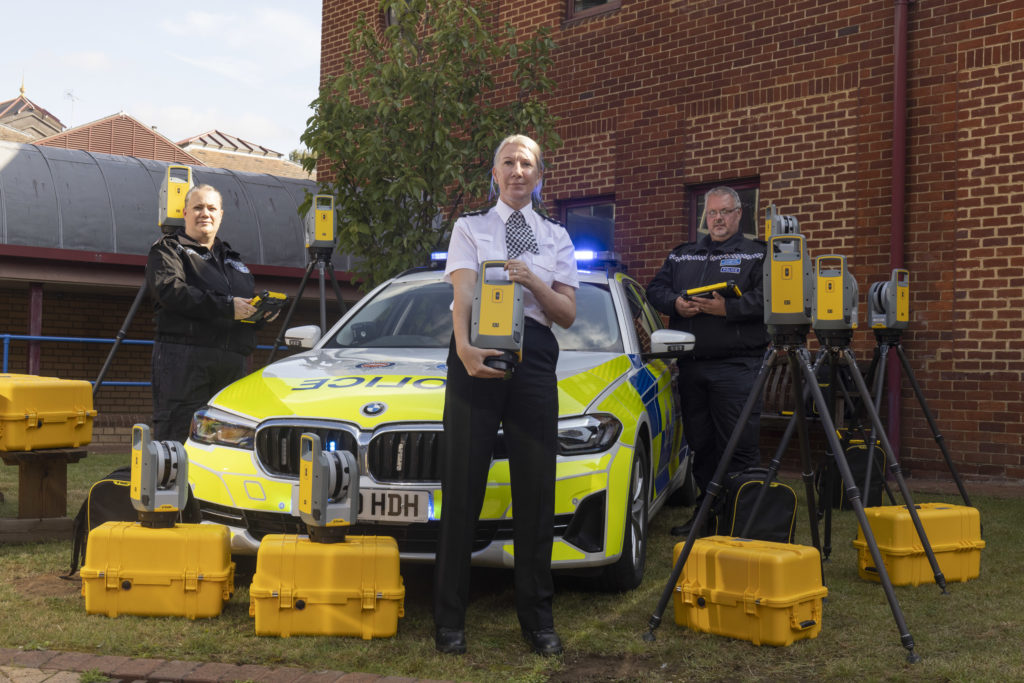 Read the official press release here
Whilst the benefits of the Trimble X7 are relevant to a wide range of users including surveying practices, construction companies, architects, steel manufacturers, and many more have been well documented, the demands of police forensic work require an instrument that can deliver in very specific areas which is why the X7 has proved to be an excellent match:
11 points why the Trimble X7 is a perfect match for forensic police work
Ease of use – the learning curve for the X7 is the shortest of any scanner we've ever seen with our training department estimating that even a non-surveyor can be efficient in data collection within hours. This gives it a far wider range of use. Thanks to its intuitive Perspective software running on a tablet, crime and collision scene investigators can reliably collect scan data even if they have not used the instrument for several weeks.
Fit in with your existing workflow – export formats supported include Trimble and non-Trimble software through the instrument's new Trimble Perspective software. For example, the open .E57 format for easy importing of data straight into 3rd party registration software.
Verification of information on site – the X7's automatic on-site registration means that officers can check that all the information they need has been collected. Often there is no chance to revisit a scene, so this feature is vital for ensuring a full and detailed survey has been completed before leaving the site.
Survey completed and sent from the site – with registration carried out on site, the finished scan data can be sent from the field for immediate analysis. This ensures a smooth flow of information in an environment where shift work and office processing time can delay the final deliverable by days.
Fast set up and use – the X7 can be up and running in minutes thanks to the quick release mechanism and automated survey grade self-levelling – just put the scanner down and it's ready to go.
Night-time benefits with easy moving and set up around the site – an IMU has been included in the X7 which calculates the new station orientation and will import new data with this orientation already applied. The registration process which follows is then much faster due to the scan already having the correct orientation- just pick it up, hold it as you wish, walk where you want and put it down. This also makes it great for night-time working because unlike other manufacturer's scanners it is not subject to the dark/low-light condition caveats that optically based solutions are.
ROI – auto calibration brings reliability, cost-savings and no downtime – not only is the X7 priced competitively, but users are calculating that the auto-calibration feature alone can save in excess of £3k – £4k a year because unlike other manufacturer's scanners, the X7 does not need to be sent abroad for this process. Instead it's done automatically, every time it's used, with the option of a printable certificate.The calibration of some instruments can take up to 2-3 months requiring the hire of a replacement instrument. The X7 eliminates the need for this.
Rain never stops play – Trimble instruments have a proven record in the rain and with its IP55 rating, the X7 is no exception.
Highly portable – the X7 weighs just 5.8kg and can be carried easily in a backpack.
Excellent data quality – fast data collection plus the option of a high sensitivity mode for scanning dark vehicles etc.
Images and annotations – Trimble Perspective software on a tablet drives the X7 and allows users to annotate, add images, tags, notes etc.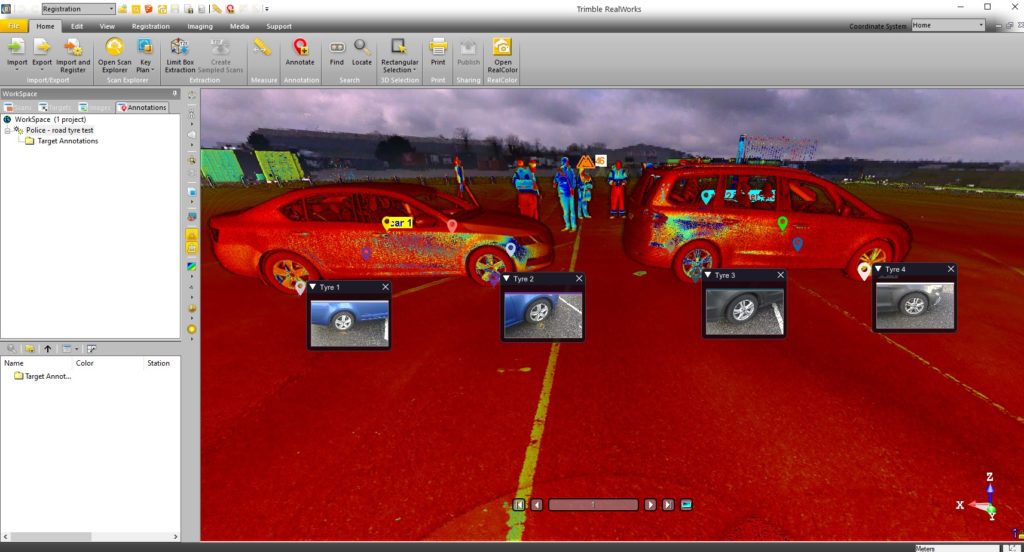 KOREC's Barry Monk explains why the X7 is a good choice for Surrey Police and Sussex Police chose the Trimble X7
"Working with Surrey Police and Sussex Police on this project was an exciting opportunity to understand the impact a solution such as this can have in ensuring that the requirements of both Police and the public are met.
Breaking down and understanding each element of attending a scene and collecting crucial information was key. The Police have one chance to collect the data in one visit and not miss a thing. With the Trimble X7 solution we were able to tick so many boxes. It is compact and lightweight with all the accessories in a single, easy to carry lightweight backpack and the X7 even has handle which are important aspects when it comes to transporting it quickly on to a scene. Additionally, the onboard Trimble Forensics Capture software is extremely intuitive to use. The X7 proved quick and easy to set up and GO with auto levelling and confirmed calibration at the beginning of each scan. The 3D visualisation of each scan within the Capture software gave confidence and comfort to the investigator that all data was captured. If there were areas that were missed, an extra scan could be added with ease.
In many of the scenes that the investigators attend, speed with accuracy is key. Once the scene was captured, the investigator could start the registration process in the field or whilst on route to another scene or to the station. The complete point cloud would then be ready to review but it didn't stop there. Once we had the finished point cloud, putting the data set through to Trimble Forensics Reveal software gave the police the power to verify, understand and produce information to support the outcome of the case. As Trimble's Reveal software was designed with Forensics investigations in mind, there are many tools to allow the investigator to present that data but also to prove what potentially happened in the incident.
The flexibility of the Trimble X7 linked to the Trimble Forensic Reveal software also enables us to develop for future maybe more complicated scenes for investigation and I am pleased that we will continue to work with the police and provide future developments."
KOREC specialises in bringing end to end solutions and our Forensics offering is no exception. As well as the Trimble X7, we also offer Trimble Forensics Reveal, software that gives you all the tools you need to recreate, analyse and visualise crime and crash scene data. Ideal for capturing small data sets using tape measures or total stations and also for managing full 3D scan point clouds.
If you'd like further information on Police/Forensics applications for our Trimble survey solutions, please contact our KOREC specialist in this area, Cesar Almeida.
Cesar can be emailed at cesar.almeida@korecgroup.com or called on 07721 919912.
For further information on the Trimble X7:
Call UK Sales: 0345 603 1214
Call Ireland Sales: 01 456 4702
For anything else, view our contact page.