Who likes January? OK, don't all shout at once. We know it's probably the least-loved month of all, and it's easy to see why – it's cold, it's dark, your bank account is decimated, and it just seems to go on, and on…
But this January is different. This is January 2021, which means that 2020 is officially over. Which is cause for celebration alone.
But January is great for other reasons – it's a clean slate, a fresh start – the one time in the year when you can sit down, refocus and reprioritise your goals for the coming twelve months.
And whilst you're making those plans, we invite you to consider three things – service, delivery, expertise.
"Very happy with the service from KOREC – always available when needed"
Service
What does great service mean to you? To us, it's about making your experience as smooth, as simple and as stress-free as possible. Whether that's purchasing new kit, undertaking training, organising equipment calibration or repair, or arranging a last-minute hire. At KOREC, we pride ourselves on the expertise and professionalism of all our teams throughout the entire sales process – from sales to support, hire to workshop.
This was reinforced by none other than Trimble themselves in November, when both our UK & Irish workshops received Service Provider Certification for another 2 years – a seal of approval from Trimble that our facilities, our tooling and our people are offering the highest level of service available.
98% of customers would recommend
KOREC to a colleague
Of course, we know that things don't always go to plan – 2020 was the living embodiment of this. We believe that the true test of character is how organisations and individuals react when things go wrong. Our dedicated teams will go above and beyond to make that delivery, repair that equipment, and make good on that promise. And even in the toughest of years, we aim to deliver –  94% of customers asked stated there was no decline of customer service in 2020 due to COVID-19.
"It is always a pleasure dealing with such a professional bunch of people, and yes sometimes things go wrong, but its a credit to the guys I deal with how quickly they ensure if there is a problem its rectified and dealt with immediately"
Delivery
Team KOREC will be back on the road from 4th January – rested, refreshed and ready to go the extra mile. Quite literally in some cases…
Newly-appointed Regional Sales Manager Amanda Bradshaw was out on a Sunday delivering kit to a client so they could be up and running on Monday with no loss of productivity.
If 2020 has taught us anything it's the need to be flexible and adaptable and Amanda is certainly testament to that, taking her family along for the day trip.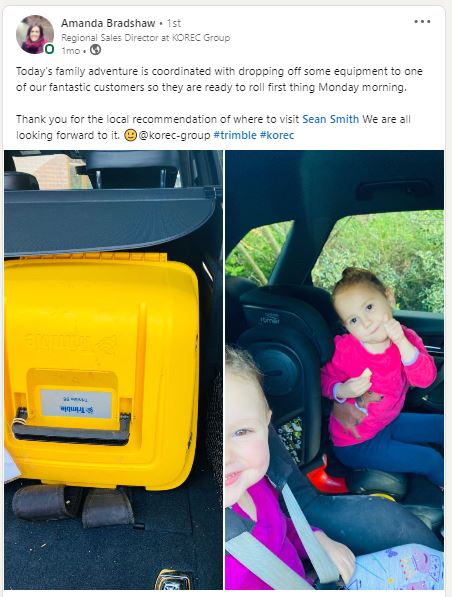 "Amanda Bradshaw and Leigh Rowell were extremely professional when I was buying the Trimble TX6 scanner,
amazing product, amazing team"
Expertise
We are proud to supply some of the world's most cutting edge solutions – whether that's the award-winning 1-button laser scanning X7, taking to the skies with the eBeeX or the next-level XR10 and SiteVision visualisation tools. For us, expertise is showcasing, communicating and proving the value of these solutions to you. We do that through our national network of geospatial support technicians – located across the UK and Ireland – so you're never far away from expert help.
90% of respondents rated our Trimble product knowledge either 'Excellent' or 'Very Good'
Before Christmas we took the opportunity to thank these incredible colleagues for their hard work, skill and dedication to customer care – through our '12 Stars' campaign. To us they are superstars, not just in their product knowledge, but also their friendly, approachable, and can-do attitude.
If your current supplier isn't living up to your expectations, is it time to make a change – and switch to KOREC?