Digital Construction workflow for the COVID era
Whilst 2020 and COVID-19 threw up innumerable challenges for many of us, the construction sector was especially hard hit. But UK & Ireland based ECC Group were determined to keep their clients happy and their projects on track – and they knew that a digital construction workflow was the…
Whilst 2020 and COVID-19 threw up innumerable challenges for many of us, the construction sector was especially hard hit.
But UK & Ireland based ECC Group were determined to keep their clients happy and their projects on track – and they knew that a digital construction workflow was the way to do this – effectively, simply, and vitally – safely.
Read how ECC Group, in conjunction with KOREC, developed a safe and effective workflow involving the X7 3D laser scanner, Trimble Realworks, and Trimble's CloudEngine software – and how they're already looking at the next step with the XR10…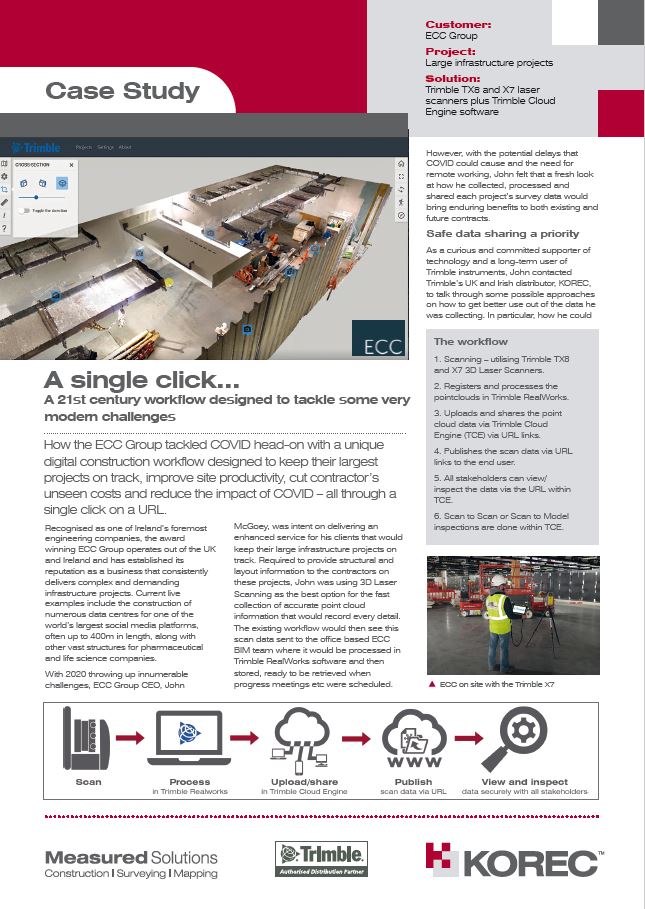 Our thanks to ECC Group CEO John McGoey for supplying the story and pictures for this case study.
Find Out More: