The Trimble X12, first impressions, putting it through its paces and my six highlights
KOREC's 'Scanning and Point Clouds' Sector Specialist, Melvin Penwill, field tests the new Trimble X12.
KOREC's 'Scanning and Point Clouds' Sector Specialist, Melvin Penwill, field tests the new Trimble X12.
At the end of July, Trimble announced the new X12 3D Laser Scanner, its first release since the groundbreaking X7 of which you've no doubt heard plenty of talk over the last couple of years! A new instrument is always an exciting moment and as KOREC's 'Scanning and Point Clouds' product specialist, I was delighted to get my hands on one of the units that landed at our Huntingdon Offices for our consultant training day.
The Trimble press release describes the X12 as '…..integrating intuitive Trimble software for precise data capture and in-field registration with state-of-the-art 3D laser scanning and imaging hardware technology from Zoller+Fröhlich (Z+F), combining the expertise of two industry leaders into a single solution." A nice description, that highlights that this really is a 'best of both worlds' combination of Z+F technology and a tried and tested Trimble workflow, but let's take a look at how that works in practice.
Out of the box
So, first impressions, it's small! For a scanner of this range (0.3 m–365 m) and precision (≤ 1 mm + 10 ppm/m), it's way more compact than its closest rivals measuring just 150 mm (W) x 258 mm (D) x 328 mm (H)) and weighs in at 7.7kg and that includes the batteries. It also has a handle, a significant detail that's been much appreciated on the X7. The box looks great too, but doesn't accommodate the Trimble T10x Tablet, but then again, that makes sense since the tablet is often going to be separate from the instrument for charging etc.
However, this is an all-in-one package and includes everything you need to start scanning immediately including the Trimble Perspective software.
Here's what I rate – my six top highlights:
All the KOREC consultants found the Trimble Perspective workflow incredibly easy to use. Those that were familiar with the X7 were up and running immediately, those that were unfamiliar found Perspective intuitive and with just a couple of questions here and there required little further assistance. This is vital for survey companies that need an instrument that's suitable for use by everyone on the team for an early ROI with little down time for training.
Window scanning – this is a great feature! Do a quick 360° scan (23 or 46 seconds) to position yourself and then use the window option to select areas for more detail. Expect 0.6mm at 10m….unbelievable!
Great imagery – you can add excellent imagery to your scan in just 2 minutes, again it's super quick and the quality is excellent. The Perspective software also means that it's really easy to retake images. A lot of thought has gone into making this a really simple procedure.
Clean, sharp data and noise, or more accurately, lack of noise! One KOREC customer scanned a black car. Normally with a reflective surface of this sort, you can expect noise. In this case, the customer thought that that the data had been filtered in  Trimble RealWorks because it looked so unbelievably clean. Not so, this was all the work of the X12. It's worth noting that noise is at 0.2mm at 10m for the X12 compared to maybe 2-3mm with the X7.
Scanning in the dark – don't be put off anymore, even for inspection work. The X12 has four LED lights which are so strong that from the results, you wouldn't even know you were in a dark room.
Fast – this scanner is also speedy, one of the fleetest on the market and with Trimble Perspective, users can check their data, take measurements, and add annotations before leaving their site which makes for faster turnaround time in the office.
The proof of the pudding…
I spotted this on the drive back from Huntingdon and couldn't resist! The obelisk was in a really tricky environment with trees all around but I wanted detail, not trees. I did a 360° scan for registration and then a window scan with images. The end result was clean and crisp.
I chose this bridge because I've visited it regularly with the X7 so I knew it would be a really useful comparison to undertake the same scan with the X12. The result with the X12 is a totally different level. This is an instrument with an understandably higher price tag than the X7, but this scan reminded me exactly why. I scanned at an 80-90m range and again, the results were impeccable with the detail on the brickwork crisp and clear.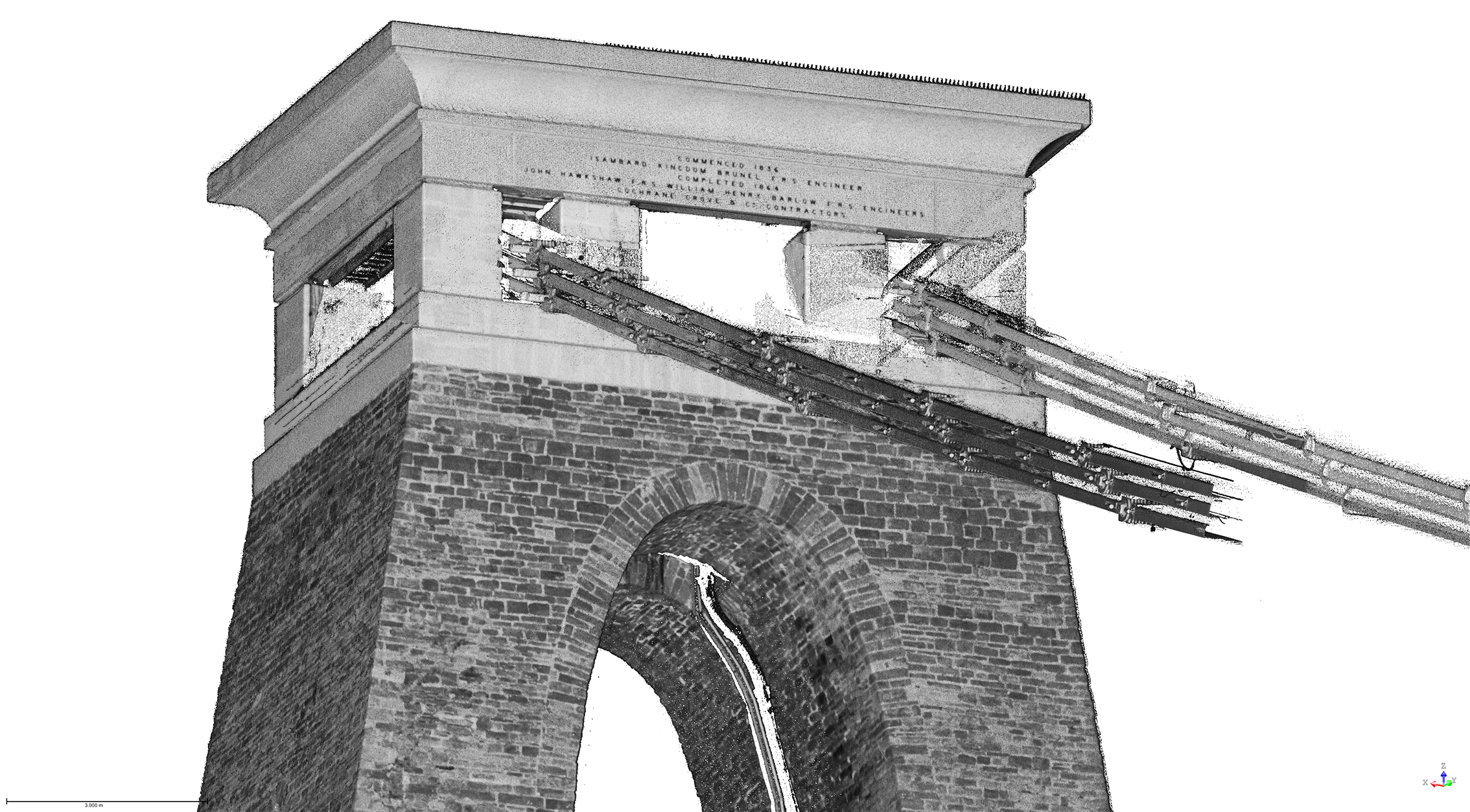 Conclusion
In all honesty, when I first heard about the X12, I was asking myself how it would fit into the fleet of one of our typical KOREC survey customers and as ever, the answer comes not from a press release or a data sheet but those who are out in the field or running a survey business, all of whom have productivity, profit and great deliverables in mind. The customers I've shown the X12 to have been wowed by its performance as a single instrument suitable for any job. So, I'm signing off with a quote from a recent demonstration that sums it up perfectly:
"It's totally fit for purpose, every purpose, in fact it's a bloody great scanner!"
If you'd like to know more about the X12, please contact me at Melvin.penwill@korecgroup.com and please do sign up for our X12 webinar at https://korec.group/x12-webinar-1 on Tuesday 11th October.