Design models in augmented reality, IPC Euston
Real-time decision cuts costs by two thirds and reduces work by four months. Skanska share their experiences of using Trimble SiteVision at Infrastructure Projects Central (IPC) Euston.
As the engineering and construction industries adopt augmented and mixed reality solutions, both the qualitative and quantative benefits are becoming apparent. Skanska share their experiences of using Trimble SiteVision at Infrastructure Projects Central (IPC) Euston, London.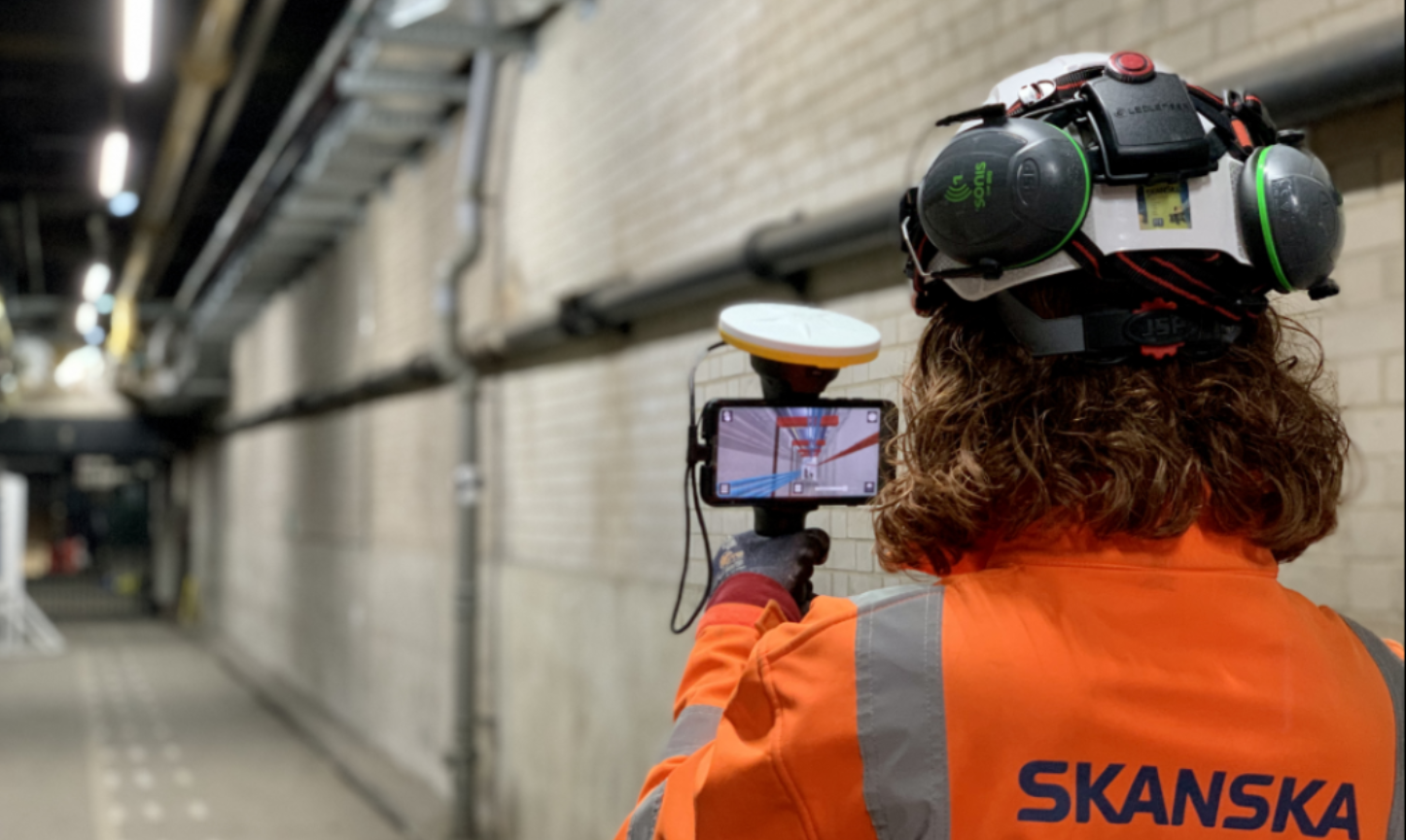 Euston Station is the sixth busiest rail station in the UK and pre covid it was the departure and arrival point for over 44 million people each year. Plans are currently underway to transform the area into a modern transport hub and to construct the new High Speed 2 (HS2) terminal. These improvements will increase passenger capacity whilst improving journeys through a redeveloped terminus and new high-speed platforms.
IPC Euston is a multi-disciplinary, logistics and building works scheme designated to be carried out by Skanska (under the Network Rail Infrastructure Projects Central framework (IPC)), to enable HS2 construction.The construction project is already underway with the Skanska Engineering Survey team being on site since 2018.
Over the last eighteen months, the engineering survey team has incorporated augmented reality (AR) into their workflow and in particular, the KOREC supplied Trimble SiteVision technology. Having had extensive SiteVision and AR experience on the A14 Road Improvement Scheme, the team has adapted the workflow to suit the indoor environment at IPC Euston.
About Trimble SiteVision
Trimble SiteVision works by fusing cutting-edge augmented reality technology with Trimble Catalyst centimetre-precision GPS, to bring 3D design models off the screen and onto site. The end result is a system that allows you to take your design models into the field and visualise them in 3D, all to a 50mm accuracy.
Underground at IPC Euston – bringing the benefits inside
At IPC Euston, Skanska are using the Trimble SiteVision system to visualise future design, verify as-builts and plan works for feasibility and buildability in applications that are predominantly underground.
Whereas before the GNSS function was used to position new design and to view existing utilities below the ground, at Euston, Skanska Engineering Surveyors Alison Small and Izzy Taylor have found a solution using the Trimble SiteVision indoors where GNSS is unavailable. Instead of automatically placing the 3D model out on site, the manual placement function is used to view 3D models for as-built purposes and viewing future design to check for clashes.
Real-time decision cuts costs by two thirds and reduces work by four months
In particular, Trimble SiteVision was used to visualise a new pipework route in the station's basement. The ease with which the new route could be visualised ensured a far more efficient approach to decision making between clients, designers and stakeholders, with solutions being reached in real-time. For example, the team had received an initial design with a figure for enabling costs. The Skanska MEP team proposed an alternative route at at one third of these costs that also reduced the programme by four months.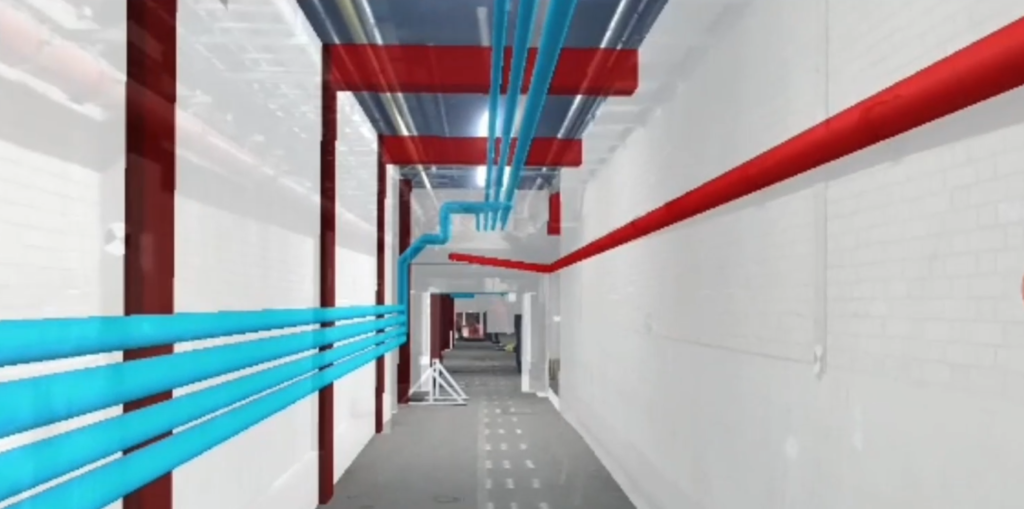 The Skanska Engineering Survey team and the BIM team assisted in presenting the new route to the client and stakeholders using the SiteVision system. A physical site walk was conducted with the AR technology by half of the team whilst the remaining team members joined via Microsoft Teams.
SiteVision provided the evidence required to enable the client and its stakeholders to accept the proposal at the same meeting. This saved two thirds of the costs and reduced the programme by four months.
"Watching it in real time is great. One of the best things I noted was that people involved didn't comment about the technology they just asked questions straight away about clashes that could be seen."
– David Edwards, Senior Design Manager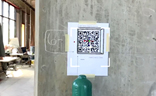 Connect AR allows you to position AR models on your job site with QR markers
Release of Trimble Connect AR for higher accuracy placement of models indoors/underground
Trimble has just released Connect AR, an augmented reality app that gives building construction workers even greater accessibility to 3D models in the field. The app runs on Android and iOS tablets as well as smartphones and integrates with Trimble Connect (cloud-based integration and comms platform) and the Trimble Mixed-Reality portfolio, including SiteVision.
Skanska is currently trialling a Connect AR license and will find some key benefits. For example, for users of Trimble SiteVision indoors or underground, such as Skanska, it is now easier and faster to position the model in the real world. A network of QR code markers are generated in Trimble Connect which can be placed around the jobsite using either a Trimble Robotic Total Station or a manual method. This increases accuracy for the comparison of as-built construction to the digital design.
Connect AR also allows you to use the LiDAR scanner integrated in Apple devices to measure distances and areas between real and virtual objects which can provide valuable information to supplement issue reports or estimates.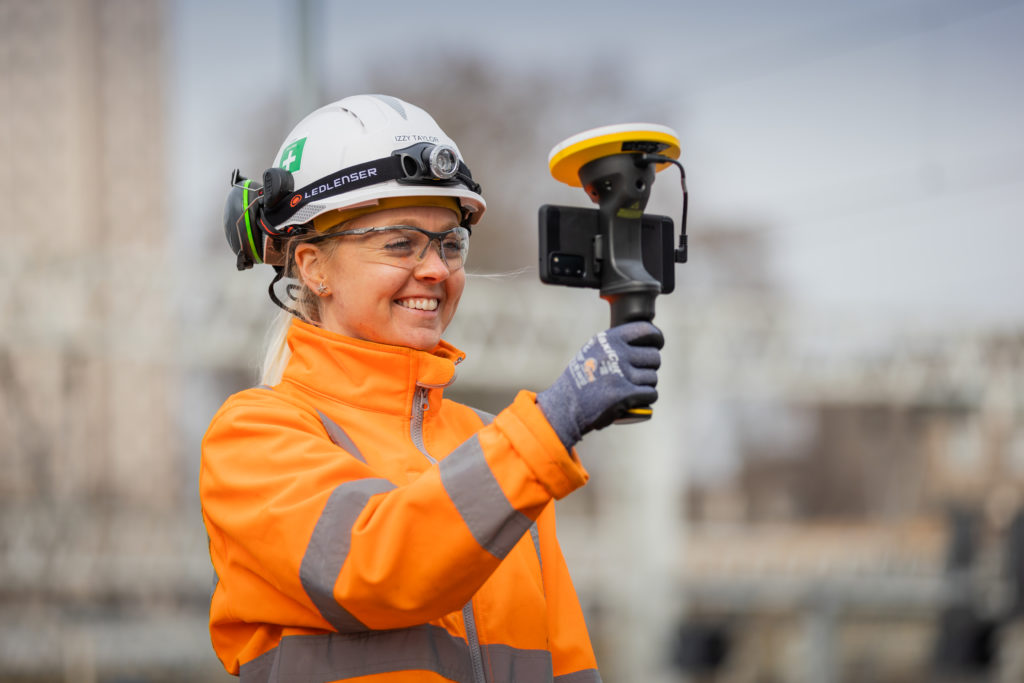 Our thanks to Skanska Engineering Surveyor, Alison Small for supplying the images and information