Definitely not when it comes to examining why the Trimble X7 3D Laser Scanner lends itself to the pressures of crime and collision scene investigation!
We round up the top ten reasons why the X7 delivers on key requirements.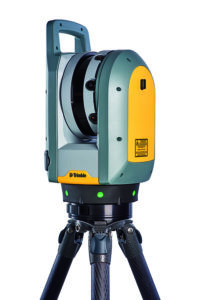 Over the years, KOREC has enjoyed a long and informative relationship with the UK's police forces supplying a range of survey instruments from integrated GNSS and Total Station Systems to more recently, 3D Laser Scanning technology including the groundbreaking Trimble SX10 Laser Scanning Total Station.
Crime scene and collision evidence gathering is a discipline that brings its own set of challenges. The pressure to work quickly and capture every detail of a scene, often with no chance to revisit the site later, means that the emergency services need to have 100% confidence in the reliability of their data. They need to be able to gather that information quickly and it needs to be accurate, all encompassing and sufficiently robust to stand up in a court of law. Consequently, we've seen a shift towards 3D Laser Scanning as the best methodology for capturing a scene as quickly and completely as possible. Additionally, this can often be done from the side of a site reducing the chances of contaminating evidence.
The latest Trimble X7 3D Laser Scanner lends itself to the unique set of challenges faced by the police in a number of ways:
Ease of use – the learning curve for the X7 is the shortest of any scanner we've ever seen with our training department estimating that even a non-surveyor can be efficient in data collection within hours. This gives it a far wider range of use. Thanks to its intuitive Perspective software running on a tablet, crime and collision scene investigators can reliably collect scan data even if they have not used the instrument for several weeks.
Fit in with your existing workflow –

export formats supported include

Trimble and non-Trimble

software through the

instrument's new Trimble

Perspective software.

For example, the open

.E57 format for easy

importing of data straight

into Leica's Cyclone

software.

Verification of information on site – the X7's automatic on-site registration means that officers can check that all the information they need has been collected. Often there is no chance to revisit a scene, so this feature is vital for ensuring a full and detailed survey has been completed before leaving the site.
Survey completed and sent from the site – with registration carried out on site, the finished scan data can be sent from the field for immediate analysis. This ensures a smooth flow of information in an environment where shift work and office processing time can delay the final deliverable by days.
Fast set up and use – the X7 can be up and running in minutes thanks to the quick release mechanism and automated survey grade self-levelling – just put the scanner down and it's ready to go.
Night-time benefits with easy moving and set up around the site – an IMU has been included in the X7 which calculates the new station orientation and will import new data with this orientation already applied. The registration process which follows is then much faster due to the scan already having the correct orientation- just pick it up, hold it as you wish, walk where you want and put it down. This also makes it great for night-time working because unlike other manufacturer's scanners it is not subject to the dark/low-light condition caveats that optically based solutions are.
ROI – auto calibration brings reliability, cost-savings and no downtime – not only is the X7 priced competitively, but users are calculating that the auto-calibration feature alone can save in excess of £3k – £4k a year because unlike other manufacturer's scanners, the X7 does not need to be sent abroad for this process. Instead it's done automatically, every time it's used, with the option of a printable certificate.
The calibration of some instruments can take up to 2-3 months requiring the hire of a replacement instrument. The X7 eliminates the need for this.
Rain never stops play – Trimble instruments have a proven record in the rain and with its IP55 rating, the X7 is no exception.
Highly portable –  the X7 weighs just 5.8kg and can be carried easily in a backpack.
Excellent data quality – fast data collection plus the option of a high sensitivity mode for scanning dark vehicles etc.
Images and annotations – Trimble Perspective software on a tablet drives the X7 and allows users to annotate, add images, tags, notes etc.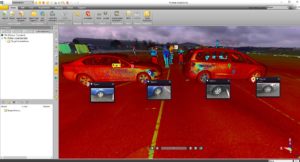 Scan data from the Trimble X7
For further information on the Trimble X7:
Call UK Sales: 0345 603 1214
Call Ireland Sales: 01 456 4702
For anything else, view our contact page.