Ten years ago, back in 2007, the birth of Trimble VISION technology set the total station on a new path. But where has that path led…..
It's been ten years since the launch of the VX10, Trimble's first spatial station. Truly ground breaking, its arrival in 2007 saw the first ever commercial outing for Trimble VISION in an instrument that integrated video, scanning and positioning technologies.
Designed to improve data collection and the clarity of deliverables, the 2007 version of Trimble VISION provided a real-time reference enabling surveyors and engineers to see everything the instrument saw and to directly work with live video images on a controller or capture measurements to a prism or a reflectorless surface with a point and click. All this was delivered through a single 3MP pixel camera.
10 years later and we have the latest incarnation of Trimble VISION – step forward the SX10! Developed from the ground up, the SX10 combines surveying, imaging and high speed 3D scanning in one revolutionary instrument.

So what has 10 years of Trimble development in this area given us? Well Trimble's commitment to the evolution of the total station has resulted in many industry firsts (see our VISION timeline) but if the VX was hailed as a game changer, the SX10 is most definitely an industry shaker. For a start it comes with greatly improved Trimble VISION technology. Whereas the VX had just one 3MP camera, a field of view of 16.5° x 12.3° and 8x zoom, the SX10 has 3 calibrated cameras, a 360° x 300° field of view and 84x total zoom which means a single pixel can be picked out at 200m range! The clarity of images is breath taking.
Additionally, the SX10 has just one button on it, the cameras are now so sophisticated you no longer need to look through an eyepiece – this catches almost every surveyor by surprise! All measurement is controlled by at Tablet PC which displays the image from the coaxial telescope camera. The end result is that the SX10's VISION capabilities give you more power than ever to direct your survey with live video images on the controller as well as create a wide variety of deliverables from collected imagery. An improved performance includes the ability to capture full dome panoramas in as little as three minutes. You can also select from varying levels of imaging capabilities and resolutions, to suit your application from documenting a site to capturing additional visual detail on your DR observations.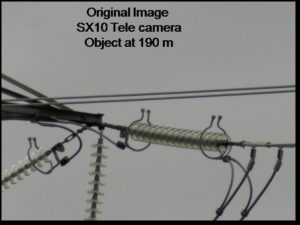 Of course Trimble VISION is just one aspect of the SX10 and whilst we'd like to wish Trimble VISION a happy 10th birthday, we're already looking ahead and wondering…..what next from Trimble?
Call your KOREC consultant now to book a demonstration of the SX10 or to find out more about Trimble VISION,
2007
Launch of the VX, Trimble's first spatial station with VISION technology.
2011     
VISION technology makes its debut in the Trimble S6 and Trimble Vice President Chris Gibson states, "….. I think that we will see a clear shift towards photogrammetry. Trimble invests around 12% of its revenue in R&D and continually assesses what is happening in the market place. Our recent acquisitions show a clear shift towards photogrammetry and the new release of Trimble VISION on the S6 reinforces this."
2014
Launch of the Trimble V10 Imaging Rover with VISION technology, a pole based system designed to capture a 60MP panorama image with a single button push.
2015
Trimble enhances its S-Series range of robotic total stations with the launch of two further instruments with Trimble VISION, the S7 and the S9
2016
And then there was one! Launch of the Trimble SX10 combining surveying, imaging and high speed 3D scanning in one revolutionary solution. Built on the stability of Trimble's trusted MagDrive™ and Autolock® technologies , the SX10 also boasts improved Trimble VISION powering three calibrated cameras with a 360-degree x 300-degree field of view with high precision over the entire range