senseFly Academy e-Learning Platform and Operator Certification Program
Date: Tuesday 29th November 2022
Time: 03:52pm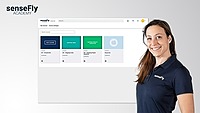 Date: Tuesday 19th January
Time: 3pm GMT
Hosted by Andrea Blindenbacher, senseFly Head of Training, the platform and program are designed to teach current and prospective senseFly drone pilots how to operate their senseFly mapping drones with confidence in the field. It also provides essential knowledge about the principles associated with successful mapping drone operations, including flight planning, photogrammetry and much more!
The presentation will cover:
– Details about the new e-Learning Platform
– Details about the Operator Certification Program
– A quick look at the course curriculum and training modules
– Course pricing and accessibility
We'll also have a live Q&A session at the end to answer any questions you might have regarding the new resources.