For information on how KOREC have responded to the COVID-19 Pandemic, and access to our Risk Assessments, please
click here.
Introducing the Trimble TSC5 Controller
16 March 2021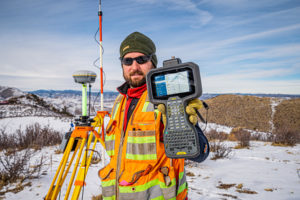 Date: Tuesday 16th March
Time: 3pm
Join Trimble's survey controller product marketing team to learn everything about the new TSC5 controller. The TSC5  is the dependable, modern, sixth‑generation survey controller that enables you and your team to get the job done efficiently and accurately, every day, all day.
Talk
Korec
Case Studies
A combination of two Trimble GPS solutions, the R10 Receiver and Trimble Catalyst (a unique subscription-based GPS solution)

Tackling knotweed with high accuracy GNSS Read More >

Trimble VRS Now has been used to replace a base station bringing even greater coverage and improved efficiency to the Hydrographic Survey Team at ABP Southampton.

Supporting the safe navigation of vessels within the Port of Southampton Read More >
Case Studies
Latest News
"Trimble VRS Now can be summed up in a single word – reliability." Neil Jefferies, Greenhatch Group Director There are many reasons why KOREC customers rate Trimble's VRS Now Service but in all the years since it's release, the top four haven't changed at all – accuracy, flexibility, reliability and availability – all […]

Trimble VRS Now – no base station required! Read More >

Did you know that the Trimble X7 3D Laser Scanner has an integrated calibration feature that offers full auto-calibration of range and angular systems in 25 seconds with no user interaction or targets? This Trimble technology is a smart feature that monitors environmental temperature, ambient light, vibration, instrument temperature and vertical speed to take the […]

The Trimble X7 auto-calibrates – five reasons why this matters Read More >
Latest News
Webinars
No upcoming webinars available, check back again soon!
View Webinars