For information on how KOREC have responded to the COVID-19 Pandemic, and access to our Risk Assessments, please
click here.
The Ins & Outs of 3D Scanning – DEMO
7 October 2020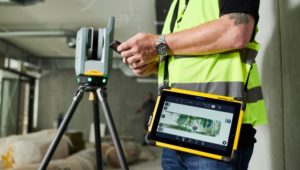 Wednesday 7th October – 9pm
Join us as we focus on the game changing workflows the Trimble X7 brings to the construction industry. Every step of the 3D laser scanning workflow, from field to office, will be covered in depth. We'll also give insight into the benefits laser scanning provides. After learning all of the incredible things you can do with the scanner, you will be able to push your company to the next level.
Talk
Korec
Case Studies
A combination of two Trimble GPS solutions, the R10 Receiver and Trimble Catalyst (a unique subscription-based GPS solution)

Tackling knotweed with high accuracy GNSS Read More >

Trimble VRS Now has been used to replace a base station bringing even greater coverage and improved efficiency to the Hydrographic Survey Team at ABP Southampton.

Supporting the safe navigation of vessels within the Port of Southampton Read More >
Case Studies
Latest News
Did you know that the Trimble X7 3D Laser Scanner has an integrated calibration feature that offers full auto-calibration of range and angular systems in 25 seconds with no user interaction or targets? This Trimble technology is a smart feature that monitors environmental temperature, ambient light, vibration, instrument temperature and vertical speed to take the […]

The Trimble X7 auto-calibrates – five reasons why this matters Read More >

It's always interesting for us here at KOREC to see what sort of reception a new product gets and we have to say the Trimble TSC5 Android data logger has certainly had its fair share of coverage on social media since its March launch. We've had everything from the Trimble 'data logger evolution' picture to […]

Customer feedback on the new Trimble TSC5 Read More >
Latest News
Webinars
No upcoming webinars available, check back again soon!
View Webinars