Trimble technology and the Geospatial Commission's NUAR map project
The recent appointment of Atkins by the Government's Geospatial Commission is the start of a build operation which will run for three years. Here at KOREC we're looking forward to the start of this process and of course can't help but suggest three technologies that could really help the field data capture!
Congratulations to Atkins, the company that has been appointed by the government's Geospatial Commission to help create a digital map of underground pipes and cables throughout the UK.
The map will be known as the National Underground Asset Register (NUAR) and is being developed by Atkins alongside mapping agency Ordnance Survey and geospatial data management leaders 1Spatial.
Designed to revolutionise construction and development across the country, the Geospatial Commission NUAR map release states that, "The economic cost of accidental strikes on underground pipes and cables is estimated to be £2.4 billion per year and one cause is inaccurate information on the location of buried assets. Once operational, NUAR is expected to deliver around £350 million per year in benefits by avoiding accidental asset strikes, improving the efficiency of works and better data sharing."
The project is about to enter its build stage, a process estimated to run for three years. This is a large and ambitious undertaking, but the geospatial industry is highly progressive when it comes to the development and adoption of technology for field data capture and verification and the NUAR project will no doubt make excellent use of these developments.
Here at KOREC we can't help but make three suggestions for technology that could be beneficial on a project of this nature:
Mobile Mapping + GPR Survey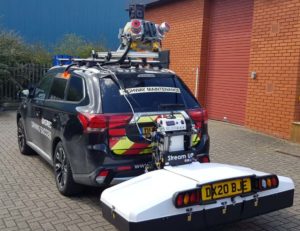 The KOREC Professional Services team has just completed a roads project that saw them carry out a Trimble MX9 vehicle mounted mobile mapping survey at the same time as an underground mapping survey using Ground Penetrating Radar (GPR). This dual-purpose survey was completed with a single pass (reducing emissions and keeping boots off the tarmac) and produced a data set suitable for many applications from asset management to road conditions surveys to pre site risk analysis.
The Trimble® MX50, offered for sale by KOREC, is a practical field-to-finish mobile mapping solution for asset management, mapping, and road maintenance. The system delivers a very accurate point cloud of the environment along with complementary immersive imagery providing substantial gains in productivity in areas such highway management, utilities and local government.
Augmented reality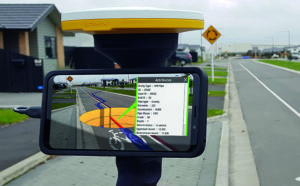 Imagine if you could see things that are hidden or that don't actually exist yet. Trimble® SiteVision™ brings geospatial data to life so you can easily visualise, explore and understand complex information with unrivalled centimetre accuracy, right from your mobile device.
Ideal for use before and after in an application such as the NUAR project, SiteVision is proven technology used for the visualisation of underground assets by organisations such as Balfour Beatty Plc, O'Brien Contractors and the A14 Integrated Delivery Team.
Trimble SiteVision couldn't' be easier to use and is highly portable for use on site.
Centimetre accurate, low-cost positioning for large workforces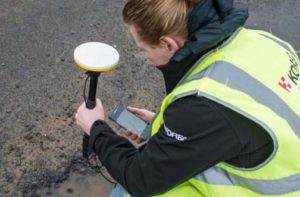 If you have a large workforce that requires centimetre positions to support its main line of work, then Trimble Catalyst provides an excellent way of enabling a varied workforce of non-surveyors to achieve the high accuracy that utility positioning requires, but without the costs of a high-end survey grade GNSS.
Trimble Catalyst is a revolutionary, GNSS concept delivering positioning as a service to mobile devices. It turns your existing Android or iOS device into a precision mapping, navigation and measurement tool that you can use with any location enabled app or service including KOREC Capture and Esri FieldMaps.
The cost of the Catalyst hardware has been kept low at just £300 per receiver and subscriptions come in a range of choices depending on the number of licenses required and hours used. However, Catalyst is more suitable for some users than others and our business case post on this is well worth a visit.
It's also the perfect partner for our KOREC Capture Utility module for field data capture specific to the utilities sector.
If you'd like to find out more about any of these technologies, please contact:
Call UK Sales: 0345 603 1214
Call Ireland Sales: 01 456 4702
For anything else, view our contact page.