To the Point with the R12i
This week saw the launch of the next level GNSS solution from Trimble – the R12i.  Featuring robust IMU tilt-compensation via their patented TIP (Trimble Inertial Platform) technology, you can forget about levelling the pole and focus on collecting points, faster, safer and easier. Utilising an angled…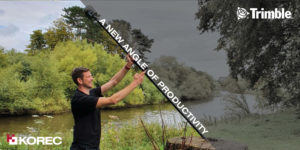 This week saw the launch of the next level GNSS solution from Trimble – the R12i. 
Featuring robust IMU tilt-compensation via their patented TIP (Trimble Inertial Platform) technology, you can forget about levelling the pole and focus on collecting points, faster, safer and easier.
Utilising an angled pole allows you to obtain previously impossible or hazardous points – such as corners of buildings, tree bases and by rivers/watercourses.
With no time wasted calibrating or levelling, you can be much more rapid when collecting points – check out the video here to see how the R12i compares!
We are hosting a special R12i webinar on the 10th, to give you the complete lowdown on the new features, the benefits to your business, and multiple applications. Sign yourself up;