Rail and the Trimble SX10
"Game-changer" is a phrase which we hear a lot these days, but Trimble have recently released two products which truly fall into that category. The first of those is the Trimble SX10 Scanning Total Station
Trimble SX10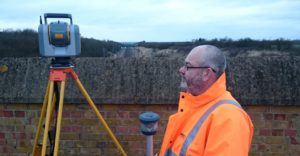 I'm not standing in a hole, the Trimble SX10 is set on a very high tripod to see over the wall to the site below. Two of the biggest issues with surveying the railway are access and speed of measurement, particularly given the UK's "boots off ballast" policy. The Trimble SX10 is unique, the world's first full 3D Laser Scanner and Robotic Total Station in one instrument. As you can see, there is no telescope, multiple cameras take care of pointing the instrument, measuring the detail, setting up the scans, even checking it is positioned correctly over the ground markers, I could have been capturing the scan below from my car, in the warm!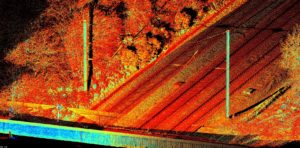 I measured multiple scans of the track in just a few minutes and recorded high quality images too. An example of this is the 60mm scan grid on the bridge shown below at over 450 metres away and the SX10 did this while setting up the backsight, and I'm often told I can't multi-task.
As we move towards the requirement to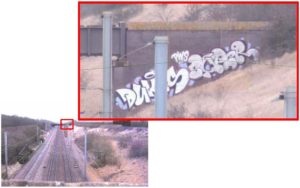 collect more data rich information, including point clouds and images with greater access and time pressures, the benefits and flexibility of the Trimble SX10 will only increase. You now have one instrument that can undertake conventional one-person surveys and setting-out as well as capture high-quality 3D laser scans and record high-definition metric photographs, whilst also being able to operate as an Intergrated Surveying solution alongside a GNSS receiver.
Over 25 years ago Trimble launched the world's first Robotic Total Station, now the "Totally Flexible Total Station" moves up a gear.