For information on how KOREC have responded to the COVID-19 Pandemic, and access to our Risk Assessments, please
click here.
Field Software
Field software solutions for surveying, mapping & GIS applications provide a complete approach to managing fieldwork.
Trimble & KOREC's field solutions enable consistent, standardised data collection, achieve faster time-to-deliverable, keep you connected to the office, and improve your competitive edge with increased productivity and easy access to new, specialised applications.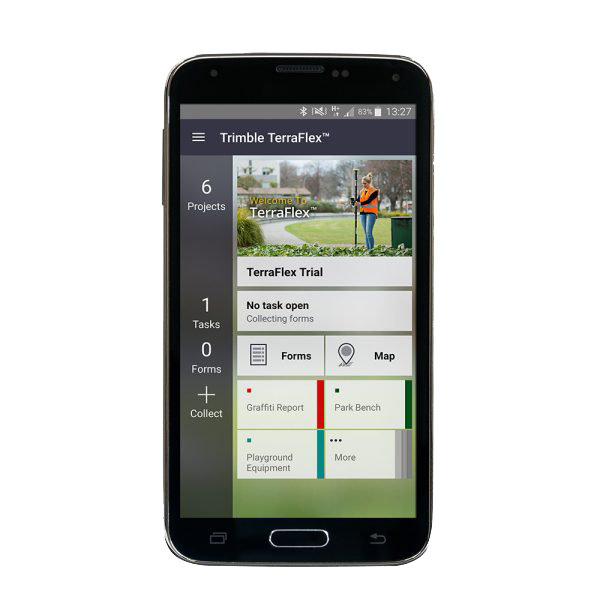 KOREC offers field software for land survey, mapping and construction applications that run on a range of data loggers depending on the project requirements.
If you're searching for the best software for increasing both field productivity and accuracy during the construction setting-out process, reducing rework and lost time then Trimble FieldLink is well worth a look. It enables easy sharing of data between the field and the office and digitises the setting out process. Popular combinations include running it on the rugged Trimble Tablet PC with the Trimble RTS873 Total Station or the Trimble S5, a no nonsense workhorse.
For field survey work, Trimble Access is what you need to control your total stations and provide cloud-based data hosting and visualisation tools for collaboration and easy access to your data with the Trimble Connect cloud. Easy to use and always being developed further by the Trimble team, it's recently been upgraded as Access 2020 to run on the handheld Android TDC600 for a really cost-effective and versatile field solution.
On the mapping side, KOREC has its own in-house software development team who customise K-Mobile data collection software to provide very specific, industry led workflows. The team also offers off the shelf K-Mobile software products such as K-Gully and K-Utility.
Finally, for something really different, there's Trimble Catalyst, a subscription-based software GNSS receiver that is revolutionising the way data collection is done by delivering accuracy on-demand using the computing power and convenience of the Android device that is already in your pocket! Simply choose your preferred accuracy from submetre to centimetre, purchase your low cost Trimble Catalyst plug-and-play USB antenna and link to your existing phone with data capture software.
Talk
Korec
Case Studies
A combination of two Trimble GPS solutions, the R10 Receiver and Trimble Catalyst (a unique subscription-based GPS solution)

Tackling knotweed with high accuracy GNSS Read More >

Trimble VRS Now has been used to replace a base station bringing even greater coverage and improved efficiency to the Hydrographic Survey Team at ABP Southampton.

Supporting the safe navigation of vessels within the Port of Southampton Read More >
Case Studies
Latest News
Trade in any old survey equipment and save £4,000 / €4,500 There's never been a better time to upgrade your survey kit, with this limited time saving on a new Trimble S5 and TSC7 bundle. Trade-in today for this complete survey solution with a big discount. As much as we're looking forward to longer nights […]

Don't save up for a rainy day Read More >

Setting out is a laborious, time-consuming yet vital stage of the construction process. With our February trade-up offer, you can ensure you have the most robust, most productive and most cost-effect setting out workflow available. To make things better, we'll give you £4000 / €4500 to upgrade your old survey kit for a brand-new, setting […]

Setting Out just got an Upgrade Read More >
Latest News
Webinars
Learn about the updates to the Trimble automated monitoring system to enhance movement detection with confidence. This update includes an overview of T4D Control v6.1, Settop M1 firmware v4.0, and Trimble Access Monitoring v2020.20. Attendees will learn: Utilizing Trimble Vision in T4D with the new file-based Data Collector Module Advantages of T4D deployment using cloud-hosted […]

What's New with Trimble Monitoring? Read More >

Not every school is closed… GEOSCHOOL is back and open for business! We will be running a range of sessions over the next few weeks, so stay tuned and if there are any new topics or subjects you'd like to revisit, let us know. Register for TBC Traverse Adjustment Workflow by clicking the link below. […]

GEOSCHOOL: TBC Traverse Adjustment Workflow Read More >
View Webinars