For information on how KOREC have responded to the COVID-19 Pandemic, and access to our Risk Assessments, please
click here.
Field Software
Field software solutions for surveying, mapping & GIS applications provide a complete approach to managing fieldwork.
Trimble & KOREC's field solutions enable consistent, standardised data collection, achieve faster time-to-deliverable, keep you connected to the office, and improve your competitive edge with increased productivity and easy access to new, specialised applications.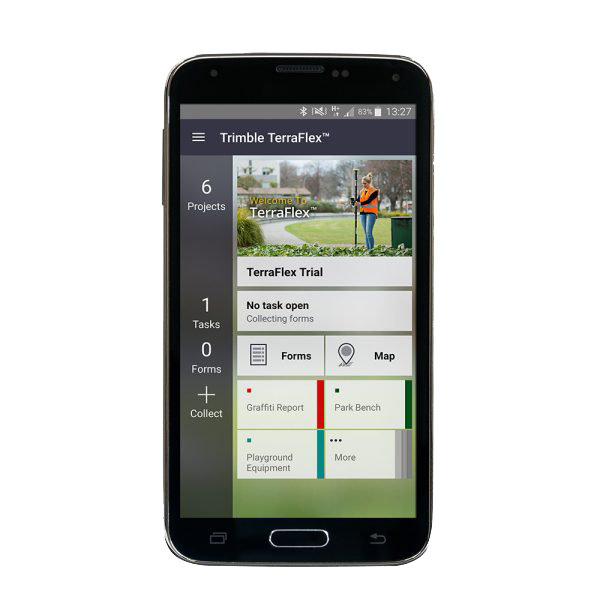 KOREC offers field software for land survey, mapping and construction applications that run on a range of data loggers depending on the project requirements.
If you're searching for the best software for increasing both field productivity and accuracy during the construction setting-out process, reducing rework and lost time then Trimble FieldLink is well worth a look. It enables easy sharing of data between the field and the office and digitises the setting out process. Popular combinations include running it on the rugged Trimble Tablet PC with the Trimble RTS873 Total Station or the Trimble S5, a no nonsense workhorse.
For field survey work, Trimble Access is what you need to control your total stations and provide cloud-based data hosting and visualisation tools for collaboration and easy access to your data with the Trimble Connect cloud. Easy to use and always being developed further by the Trimble team, it's recently been upgraded as Access 2020 to run on the handheld Android TDC600 for a really cost-effective and versatile field solution.
On the mapping side, KOREC has its own in-house software development team who customise K-Mobile data collection software to provide very specific, industry led workflows. The team also offers off the shelf K-Mobile software products such as K-Gully and K-Utility.
Finally, for something really different, there's Trimble Catalyst, a subscription-based software GNSS receiver that is revolutionising the way data collection is done by delivering accuracy on-demand using the computing power and convenience of the Android device that is already in your pocket! Simply choose your preferred accuracy from submetre to centimetre, purchase your low cost Trimble Catalyst plug-and-play USB antenna and link to your existing phone with data capture software.
Talk
Korec
Case Studies
A combination of two Trimble GPS solutions, the R10 Receiver and Trimble Catalyst (a unique subscription-based GPS solution)

Tackling knotweed with high accuracy GNSS Read More >

Trimble VRS Now has been used to replace a base station bringing even greater coverage and improved efficiency to the Hydrographic Survey Team at ABP Southampton.

Supporting the safe navigation of vessels within the Port of Southampton Read More >
Case Studies
Latest News
"Trimble VRS Now can be summed up in a single word – reliability." Neil Jefferies, Greenhatch Group Director There are many reasons why KOREC customers rate Trimble's VRS Now Service but in all they years since it's release, the top four haven't changed at all – accuracy, flexibility, reliability and availability – all […]

Trimble VRS Now – no base station required! Read More >

Did you know that the Trimble X7 3D Laser Scanner has an integrated calibration feature that offers full auto-calibration of range and angular systems in 25 seconds with no user interaction or targets? This Trimble technology is a smart feature that monitors environmental temperature, ambient light, vibration, instrument temperature and vertical speed to take the […]

The Trimble X7 auto-calibrates – five reasons why this matters Read More >
Latest News
Webinars
No upcoming webinars available, check back again soon!
View Webinars