For information on how KOREC have responded to the COVID-19 Pandemic, and access to our Risk Assessments, please
click here.
ZEB Go
Handheld laser scanning for everyone
If you're looking for a reliable way to map and understand spaces, meet the ZEB Go.
The ZEB Go is your first step in SLAM handheld technology, so whether it's the first time you've looked at digital surveying, or you want each of your sites equip with the smartest SLAM, the ZEB Go is the place to start.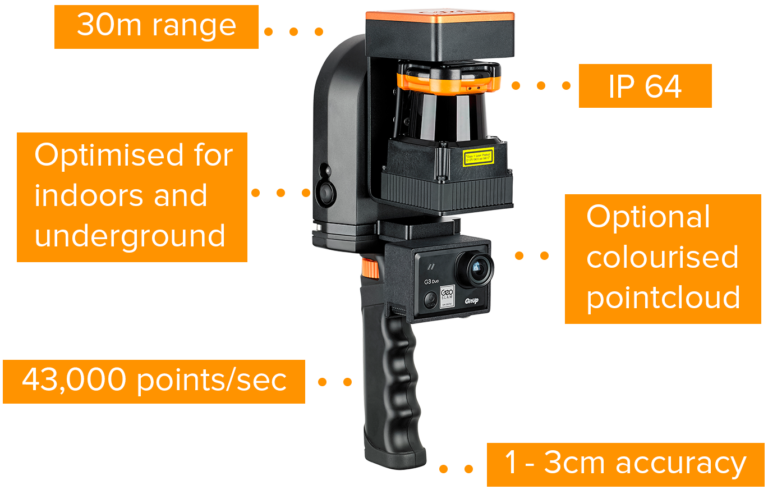 Powered by the smartest SLAM
One button operation, you'll be up and running fast – capturing data in minutes.
Process a pointcloud quickly using our intelligent point cloud processing platform GeoSLAM Hub or onboard with our real-time version – the ZEB Go RT.
GeoSLAM data is compatible with software that works for you with universal file formats (LAZ/LAS/PLY/TXT/e57).
Product Information
Videos
Key Features
30m Range
IP 64
43,000 points/sec
1-3cm accuracy
Optimised for indoors and underground
Optional colourised pointcloud
Brochure
Book a demo or speak to our Technical Support Team
Talk
Korec
Case Studies
A combination of two Trimble GPS solutions, the R10 Receiver and Trimble Catalyst (a unique subscription-based GPS solution)

Tackling knotweed with high accuracy GNSS Read More >

Trimble VRS Now has been used to replace a base station bringing even greater coverage and improved efficiency to the Hydrographic Survey Team at ABP Southampton.

Supporting the safe navigation of vessels within the Port of Southampton Read More >
Case Studies
Latest News
"Trimble VRS Now can be summed up in a single word – reliability." Neil Jefferies, Greenhatch Group Director There are many reasons why KOREC customers rate Trimble's VRS Now Service but in all they years since it's release, the top four haven't changed at all – accuracy, flexibility, reliability and availability – all […]

Trimble VRS Now – no base station required! Read More >

Did you know that the Trimble X7 3D Laser Scanner has an integrated calibration feature that offers full auto-calibration of range and angular systems in 25 seconds with no user interaction or targets? This Trimble technology is a smart feature that monitors environmental temperature, ambient light, vibration, instrument temperature and vertical speed to take the […]

The Trimble X7 auto-calibrates – five reasons why this matters Read More >
Latest News
Webinars
No upcoming webinars available, check back again soon!
View Webinars