For information on how KOREC have responded to the COVID-19 Pandemic, and access to our Risk Assessments, please
click here.
New KOREC case study with Centara Ltd – Trimble X7 with Leica Cyclone software
7 January 2021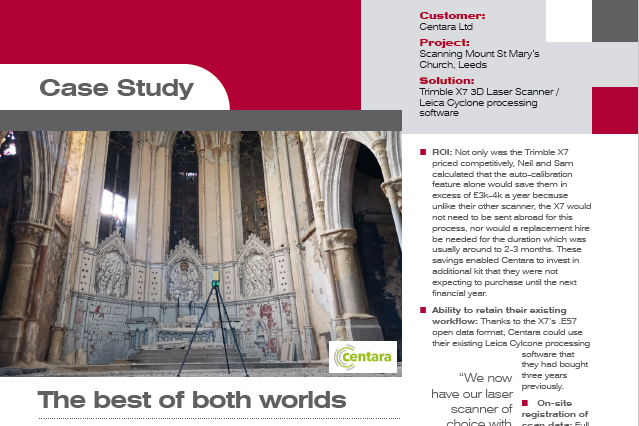 Our latest KOREC case study is called 'The best of both worlds'. Why? Because Yorkshire based Centara Ltd wanted to invest in the best 3D laser scanner for their line of work whilst making a choice that took into account many economic considerations including sticking with their existing workflow that included Leica's Cyclone processing software.
Our thanks to Centara Director of Operations, Neil Beaumont and Principal Survey Delivery Manager, Sam Hough for supplying the information and pictures for this story and explaining the nine reasons behind their purchase of the Trimble X7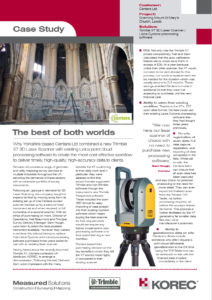 Talk
Korec
Case Studies
A combination of two Trimble GPS solutions, the R10 Receiver and Trimble Catalyst (a unique subscription-based GPS solution)

Tackling knotweed with high accuracy GNSS Read More >

Trimble VRS Now has been used to replace a base station bringing even greater coverage and improved efficiency to the Hydrographic Survey Team at ABP Southampton.

Supporting the safe navigation of vessels within the Port of Southampton Read More >
Case Studies
Latest News
"Trimble VRS Now can be summed up in a single word – reliability." Neil Jefferies, Greenhatch Group Director There are many reasons why KOREC customers rate Trimble's VRS Now Service but in all they years since it's release, the top four haven't changed at all – accuracy, flexibility, reliability and availability – all […]

Trimble VRS Now – no base station required! Read More >

Did you know that the Trimble X7 3D Laser Scanner has an integrated calibration feature that offers full auto-calibration of range and angular systems in 25 seconds with no user interaction or targets? This Trimble technology is a smart feature that monitors environmental temperature, ambient light, vibration, instrument temperature and vertical speed to take the […]

The Trimble X7 auto-calibrates – five reasons why this matters Read More >
Latest News
Webinars
No upcoming webinars available, check back again soon!
View Webinars