Meet the new ZEB Family Member
You asked GeoSLAM for a handheld scanner system with; longer range, intensity, improved colourisation and versatility. Well you'll be excited to know your dreams have been answered. Today GeoSLAM announced the arrival of the latest member of the ZEB family – The GeoSLAM ZEB-HORIZON. With a range of 100m…
You asked GeoSLAM for a handheld scanner system with; longer range, intensity, improved colourisation and versatility.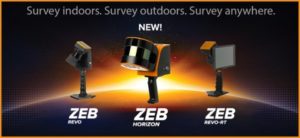 Well you'll be excited to know your dreams have been answered. Today GeoSLAM announced the arrival of the latest member of the ZEB family – The GeoSLAM ZEB-HORIZON.
With a range of 100m and a collection rate of 300,000 points per second, the ZEB-HORIZON opens up a world of new possibilities, whilst retaining the mobility and ease of use.
Today, Tuesday 16th October, the ZEB-HORIZON is publicly launches to the world at Intergeo – the largest geospatial trade show in the world.
Until you get your hands on this new edition you can visit the new product page on GeoSLAM's website.
Hands on demos from KOREC coming soon! Stay tuned.