For information on how KOREC have responded to the COVID-19 Pandemic, and access to our Risk Assessments, please
click here.
KOREC in the press – Trimble SX10
23 May 2018
The latest issue of Geomares' Engineering Showcase features KOREC customer, Neil Main, and his company PM Consultant. Like many smaller survey practices, Neil selects the technology he invests in very carefully. This story looks at why he felt the time was right to purchase a Trimble SX10 Scanning Total Station and make the move into 3D laser scanning.
You can read the full story in Engineering Showcase here or download the KOREC pdf here.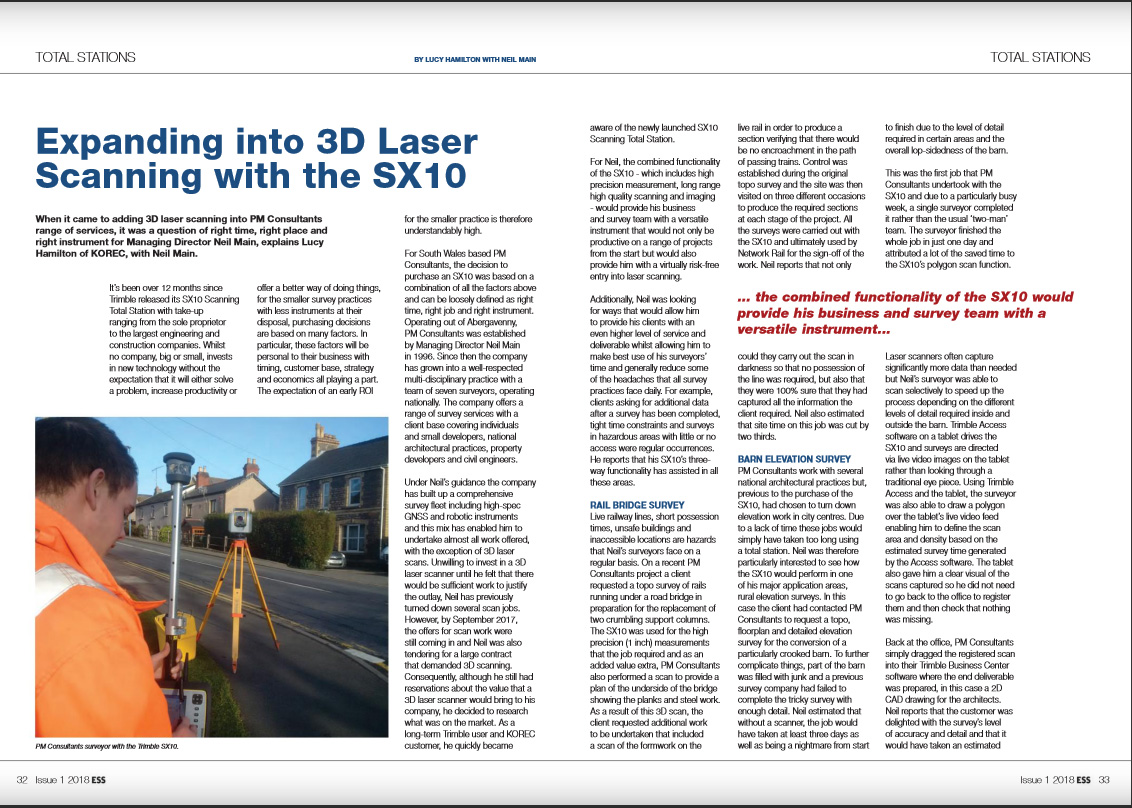 Talk
Korec
Case Studies
A combination of two Trimble GPS solutions, the R10 Receiver and Trimble Catalyst (a unique subscription-based GPS solution)

Tackling knotweed with high accuracy GNSS Read More >

Trimble VRS Now has been used to replace a base station bringing even greater coverage and improved efficiency to the Hydrographic Survey Team at ABP Southampton.

Supporting the safe navigation of vessels within the Port of Southampton Read More >
Case Studies
Latest News
Trade in any old survey equipment and save £4,000 / €4,500 There's never been a better time to upgrade your survey kit, with this limited time saving on a new Trimble S5 and TSC7 bundle. Trade-in today for this complete survey solution with a big discount. As much as we're looking forward to longer nights […]

Don't save up for a rainy day Read More >

Setting out is a laborious, time-consuming yet vital stage of the construction process. With our February trade-up offer, you can ensure you have the most robust, most productive and most cost-effect setting out workflow available. To make things better, we'll give you £4000 / €4500 to upgrade your old survey kit for a brand-new, setting […]

Setting Out just got an Upgrade Read More >
Latest News
Webinars
Learn about the updates to the Trimble automated monitoring system to enhance movement detection with confidence. This update includes an overview of T4D Control v6.1, Settop M1 firmware v4.0, and Trimble Access Monitoring v2020.20. Attendees will learn: Utilizing Trimble Vision in T4D with the new file-based Data Collector Module Advantages of T4D deployment using cloud-hosted […]

What's New with Trimble Monitoring? Read More >

Not every school is closed… GEOSCHOOL is back and open for business! We will be running a range of sessions over the next few weeks, so stay tuned and if there are any new topics or subjects you'd like to revisit, let us know. Register for TBC Traverse Adjustment Workflow by clicking the link below. […]

GEOSCHOOL: TBC Traverse Adjustment Workflow Read More >
View Webinars