KOREC launches 'Meet the Experts'
KOREC are delighted to today (11th August 2020) be announcing their new initiative, Meet the Experts, to further help and support their growing customer base. The concept is to increase awareness and understanding of eight key business areas and solutions, which are; Laser scanning and Trimble RealWorks Mobile…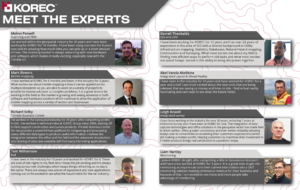 KOREC are delighted to today (11th August 2020) be announcing their new initiative, Meet the Experts, to further help and support their growing customer base.
The concept is to increase awareness and understanding of eight key business areas and solutions, which are;
Laser scanning and Trimble RealWorks
Mobile Mapping
Trimble Business Center software
Rail
GIS & UAV Solutions
Integrated Layout & Mixed Reality solutions
Integrated Survey
Monitoring
Each KOREC Expert has been selected for their specific experience, product knowledge, industry connections, and ability to share that knowledge with our customer base.
The initiative was launched with a introductory video interview with laser scanning expert, Melvin Penwill – watch the video here.