For information on how KOREC have responded to the COVID-19 Pandemic, and access to our Risk Assessments, please
click here.
New KOREC Case study – Reencon, SX10
23 October 2018
The first SX10 in Northern Ireland was purchased by Reencon. 12 months on and we catch up with Senior Surveyor, Tim Connolly, to find out how he's been using it.
Read the full case study here.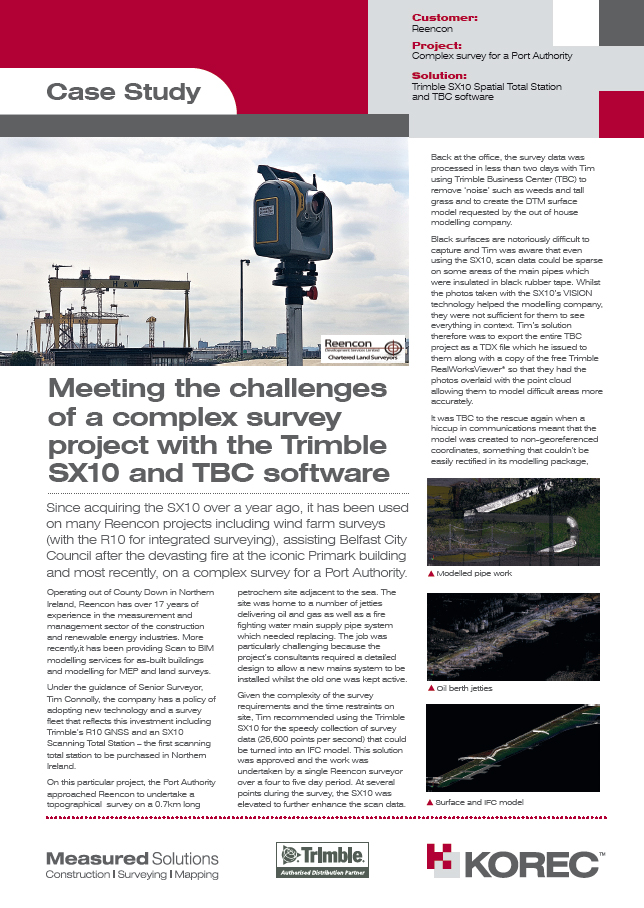 Talk
Korec
Case Studies
A combination of two Trimble GPS solutions, the R10 Receiver and Trimble Catalyst (a unique subscription-based GPS solution)

Tackling knotweed with high accuracy GNSS Read More >

Trimble VRS Now has been used to replace a base station bringing even greater coverage and improved efficiency to the Hydrographic Survey Team at ABP Southampton.

Supporting the safe navigation of vessels within the Port of Southampton Read More >
Case Studies
Latest News
A well-established policy of embracing survey technology has enabled Newry based contractor Felix O'Hare to position itself as one of the most enterprising companies in Northern Ireland for BIM and digital construction. So it comes as no surprise that under the guidance of Senior Site Engineer, Wayne Nolan, a driving force behind the advancement of […]

Setting out for success! Read More >

'Innovation and technology' are the driving forces behind a collaborative approach to projects by Norfolk based architectural design practice XLWerks. The XLWerks team specialises in urban planning and design, interior landscapes and future-proof buildings and works hard to enhance customer engagement in the design process, especially through mixed reality. Step forward the Trimble HoloLens XR10! […]

From brief to handover – using the Trimble HoloLens XR10 Read More >
Latest News
Webinars
If you are a Surveyor dependent on a VRS network or base station coverage this webinar will help you to overcome that dependency! Sign up to hear about the benefits of using CenterPoint RTX as your correction service, including significantly reducing your field setup time and having an "always-on" correction service no matter where you […]

Untethered Surveying with CenterPoint RTX Read More >

Learn about the updates to the Trimble automated monitoring system to enhance movement detection with confidence. This update includes an overview of T4D Control v6.1, Settop M1 firmware v4.0, and Trimble Access Monitoring v2020.20. Attendees will learn: Utilizing Trimble Vision in T4D with the new file-based Data Collector Module Advantages of T4D deployment using cloud-hosted […]

What's New with Trimble Monitoring? Read More >
View Webinars