For information on how KOREC have responded to the COVID-19 Pandemic, and access to our Risk Assessments, please
click here.
KOREC case study – Information flow with Morrison Water Services
28 April 2021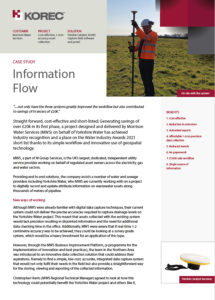 It's our thanks to Andrew Stephenson Design Manager, MWS, for this latest KOREC mapping case study focusing on Trimble Catalyst and the KOREC Capture app and portal…..and it's an easy one to love. Andrew and his team have created a very simple but highly-effective workflow that's already saved them £20k on the first phase of their project with Yorkshire Water. Not only that, the project has also been nominated for a Water Industry 2021 award for its innovative approach to high accuracy data capture and management.
Talk
Korec
Case Studies
A combination of two Trimble GPS solutions, the R10 Receiver and Trimble Catalyst (a unique subscription-based GPS solution)

Tackling knotweed with high accuracy GNSS Read More >

Trimble VRS Now has been used to replace a base station bringing even greater coverage and improved efficiency to the Hydrographic Survey Team at ABP Southampton.

Supporting the safe navigation of vessels within the Port of Southampton Read More >
Case Studies
Latest News
"KOREC is firmly behind all the success I've achieved in the last 20 years at the Northern Ireland Forest Service. The right hardware, smart data capture software development and a great working relationship enabled us to revolutionise our data collection and management capabilities."  At the end of 2020, former Information Systems Manager with the Northern […]

KOREC Canopy customer to KOREC colleague! Read More >

KOREC is delighted to announce the launch of KOREC Mapping in a move to consolidate and expand the KOREC offering of field to office data collection and handling solutions available across the UK and Ireland. This development will see new partnerships announced as well as an expanded team of KOREC development, technical and consultancy professionals. […]

KOREC launches KOREC Mapping Read More >
Latest News
Webinars
No upcoming webinars available, check back again soon!
View Webinars