KOREC announces Ireland distributor agreement with GeoSLAM
KOREC is delighted to announce that under the terms of a new agreement with 3D mobile mapping technology specialists GeoSLAM, it has become an official distributor of the company's ZEB-REVO handheld laser scanning solutions in Ireland. KOREC already successfully distributes this product throughout the United Kingdom and Northern Ireland. GeoSLAM…
KOREC is delighted to announce that under the terms of a new agreement with 3D mobile mapping technology specialists GeoSLAM, it has become an official distributor of the company's ZEB-REVO handheld laser scanning solutions in Ireland. KOREC already successfully distributes this product throughout the United Kingdom and Northern Ireland.
GeoSLAM specialises in the manufacture and development of "go anywhere" 3D mobile mapping technology, a range which includes its ZEB-REVO handheld, lightweight scanner, ZEB-CAM camera, and the recently launched ZEB-REVO RT (real time) scanner. With no requirement for GPS, GeoSLAM technology allows users to rapidly build a highly accurate 3D models within minutes, whilst on the move. It is adaptable to any environment including complex and enclosed spaces, and especially GPS-deprived spaces – such as indoors or underground.
Once mapped, the synchronised ZEB-CAM imagery and ZEB-REVO point cloud data can be viewed in GeoSLAM Hub software – in both 2D and 3D formats. For larger projects, multiple datasets can also be merged. Results are available in all major industry standard formats and users can select from a variety of export options and configurations to enable greater integration with 3rd party post processing software.
KOREC will be supplying the ZEB-REVO system which includes the handheld scanner, data logger and desktop pointcloud processing software, all backed up by KOREC's world class support and training.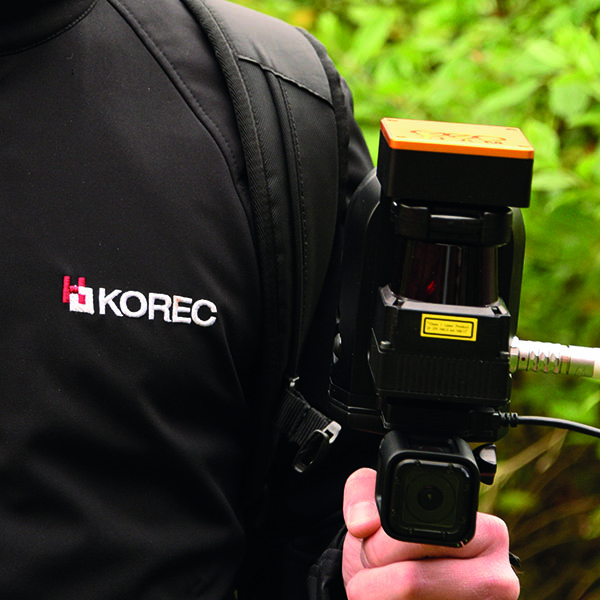 Mark Poveda, KOREC Group Commercial Director said,
"KOREC is extremely excited to be partnering with GeoSLAM to supply the ZEB REVO system. With the ZEB-REVO scanner you can very rapidly map a huge array of environments to an accuracy level of ±15mm. The ZEB REVO fits perfectly into KOREC's product portfolio, offering our Irish customers enhanced scanning capabilities on projects ranging from measured building surveys, construction, stockpiles, crime scenes and beyond."