In the press – where to find us
We're delighted to have been featured in several industry publications this month! GeoConnexion UK (March/April 2021) Our group Commercial Director, Mark Poveda uses his regular colum in this issue to look at a quarted of technology solutions that are helping the engineering and construction sectors stay safe and adapt…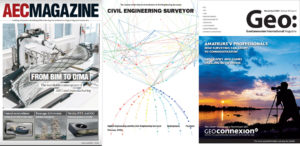 We're delighted to have been featured in several industry publications this month!
GeoConnexion UK (March/April 2021)
Our group Commercial Director, Mark Poveda uses his regular colum in this issue to look at a quarted of technology solutions that are helping the engineering and construction sectors stay safe and adapt to the new normal.
Civil Engineering Surveyor (February 2021)
A single click…
A 21st century workflow designed to tackle some very modern challenges
How the ECC Group tackled COVID head-on with a unique digital construction workflow designed to keep their largest projects on track, improve site productivity, cut contractor's unseen costs and reduce the impact of COVID – all through a single click on a URL.
AEC Magazine
A problem shared
We're back to the ECC Group and their 21st centruy workflow with this one which was featured in the March/April issue of this useful BIM technology publication.