In the press – where to find us
Thanks to all the industry publications that continue to showcase KOREC supplied technology in our articles, columns and case studies. Here's a round-up of where we've been in the last couple of months: GeoConnexion UK (May/June) The only way is up! Mark Poveda's column is a must read for…
Thanks to all the industry publications that continue to showcase KOREC supplied technology in our articles, columns and case studies. Here's a round-up of where we've been in the last couple of months: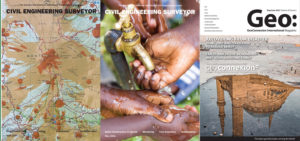 GeoConnexion UK (May/June)
The only way is up! Mark Poveda's column is a must read for anyone who's interested in the latest technology, opinion and developments in our industry. In his most recent piece, he takes a closer look at why the drone business is burgeoning and consequently, with so many choices on the market and new developments, why it's never been a better time to invest.
Read his column here.
In the same, issue there's also a great piece by Jodie Hartnell featuring the Trimble X7 which asks 'Are laser scanners evolving into cobots?'
Civil Engineering Surveyor (April)
You may have noticed that we've just launched KOREC Mapping, in a move to consolidate and expand the KOREC offering of field to office data collection and handling solutions available across the UK and Ireland. It therefore seemed the perfect time for our KOREC Mapping Business Area Manager, Richard Gauchwin, to highlight a very important aspect of the digital data capture industry, namely 'How technology can make a safer place for workers in the field.'
Read the full piece here.
Civil Engineering Surveyor (May)
For the May issue of CES, we revisited our popular case study format with a look at automated tunnel monitoring through a remote set up. Entitled 'Whilst you were sleeping' all the information for this piece was supplied by Mark Anderson, Director of Academy Geomatics. It's proved a popular story with Trimble featuring it on their website and it will also appear in GIS Resources in June as part of their infrastructure/geomatics feature.
Read the full piece here.